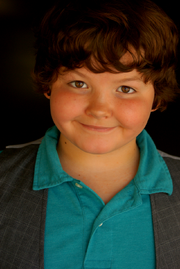 Aedin Mincks (born 2000) is an American child actor, best known for his role as Angus Chestnut on A.N.T. Farm and as Robert on Ted.
He is also known as Garth Jr. in the Capital One Visigoth commercials; however, this spring, Minck's raw talent and electric personality will be seen on the big screen, alongside several of Hollywood's biggest names, including Bradley Cooper and Zack Galifianakis, in Hangover 2, directed by Todd Phillips. He will become a series regular for A.N.T. Farm in Season 3.
Early life
Mincks was born and raised in Georgia in 2000. He lived in Illinois for several years before moving to California with his parents and two older siblings when he was 5 years old.
Mincks became interested in acting at the age of 7 shortly after observing his older brother Austin rehearsing for auditions. After doing some small independent roles, he was signed with an agent and manager and began auditioning for more professional roles which landed him in national commercials.
He currently resides in Los Angeles with his family.
Career
2011-present: A.N.T. Farm
Most recently, Mincks is recurring as Angus on A.N.T. Farm.
Personal life
Mincks is the younger brother of Austin Mincks.
Filmography
List of acting credits in film and television

| Year | Title | Role | Notes |
| --- | --- | --- | --- |
| 2012 | Ted | Robert | Feature film |
References
External links