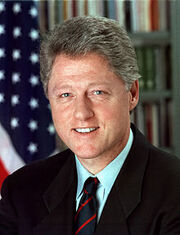 William Jefferson "Bill" Clinton (b. August 16, 1946) is the 42nd President of the United States. He served from 1993 until 2001. He is one of only four former presidents to be still living. During his term, the economy was booming, while crime rates declined. California also passed a gun control law during this point. One of the more sensitive controversies involved Clinton's supposed affair with women. Also, during this point, the Yugoslavian government began engaging in ethnic cleansing of various minority groups, including Bosnians and Croatians. He was one of the only 2 presidents to also be put under trial for impeachment due to his affair with Monica Lewinsky.
Community content is available under
CC-BY-SA
unless otherwise noted.