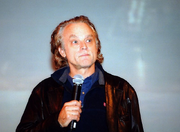 Bradford Claude "Brad" Dourif (born March 18, 1950) is an American film and television actor who gained early fame for his portrayal of Billy Bibbit in One Flew Over the Cuckoo's Nest, and has since appeared in a number of memorable roles. He is best known for his role as the voice of Chucky in the Child's Play franchise, Deputy Clinton Pell in Mississippi Burning, Younger Brother in Ragtime, Piter De Vries in David Lynch's Dune, Gríma Wormtongue in The Lord of the Rings, the homicidal Lon Suder in the TV series Star Trek: Voyager, serial killer Charles Dexter/Brother Edward in the TV series Babylon 5, and Doc Cochran in the HBO television series Deadwood. Dourif has also worked with renowned film director Werner Herzogon many occasions, appearing in Scream of Stone, The Wild Blue Yonder, The Bad Lieutenant: Port of Call New Orleans and My Son, My Son, What Have Ye Done?
Early life
Dourif was born in Huntington, West Virginia, the son of Joan Felton (Bradford), an actress, and Jean Henri Dourif, an art collector who owned and operated a dye factory. His paternal grandparents immigrated from France, and his paternal grandfather co-founded the Standard Ultramarine and Color Company in Huntington. After Dourif's father died in 1953, his mother remarried champion golfer William C. Campbell, who helped raise Dourif and his five siblings (four sisters and one brother). From 1963 to 1965, Dourif attended the private Aiken Preparatory School in Aiken, South Carolina. There he pursued his interests in art and acting. Although he briefly considered becoming an artist, he was eventually inspired to become an actor by his mother's participation as an actress in a community theater. After Aiken Prep, he attended another private school, Fountain Valley School in Colorado Springs, Colorado, graduating in 1969. He attended Marshall University for a time, before quitting college and moving to New York City to study acting, on the advice of actress Conchata Ferrell.
Early career
Starting in school productions, he progressed to community theater, joining up with the Huntington Community Players, while attending Marshall. In New York, he worked with the Circle Repertory Company. During the early 1970s, Dourif appeared in a number of plays, off-Broadway and at Woodstock, New York, including The Ghost Sonata, The Doctor in Spite of Himself, and When You Comin' Back, Red Ryder?, in which he was spotted by director Miloš Forman who cast him in One Flew Over the Cuckoo's Nest (1975).
Although this film is frequently cited as his film debut, in fact, Dourif made his first appearance in a low-budget film called "Split," which was never released. His first studio film was W.W. and the Dixie Dancekings (1975) but his bit part was cut. Nevertheless, his portrayal of the vulnerable Billy Bibbit in Cuckoo's Nest was his big break, earning him a Golden Globe (Best Actor Debut) and a British Academy Award (Supporting Actor); he was also nominated for an Academy Award for Best Supporting Actor. Skeptical of his instant stardom, Dourif returned to New York, where he continued in theater and taught acting and directing classes at Columbia University until 1988, when he moved to Hollywood.
In 1981, Vincent Canby listed Dourif as one of twelve actors to watch, calling Dourif "one of the most intense, most interesting young film actors of his generation".
Film and television
Despite his attempts to avoid typecasting, Dourif frequently plays eccentric or disturbed characters, starting in Eyes of Laura Mars (1978), John Huston's Wise Blood (1979), Forman's Ragtime(1981) and Marc Didden's Istanbul. Dourif then teamed up with director David Lynch for Dune (1984) and Blue Velvet (1986). He also appears in the 1984 music video for Toto's single "Stranger in Town".
Dourif has appeared in a number of horror films, notably as the voice of the evil killer doll Chucky in 1988's Child's Play (Dourif also appeared onscreen as Chucky's human progenitor, serial killer Charles Lee Ray). Dourif voiced Chucky in the four Child's Play sequels. Dourif played the Gemini Killer in The Exorcist III (1990), but he has broken from the horror genre with roles in Fatal Beauty (1987), Mississippi Burning (1988), Hidden Agenda (1990), and London Kills Me (1991). He also played Gríma Wormtongue in Peter Jackson's The Lord of the Rings trilogy.
On television, Dourif appeared in The X-Files episode "Beyond the Sea" as the psychic serial killer Luther Lee Boggs. He also played Lon Suder, a murderous psychopath who eventually redeems himself, in a three-episode story arc on Star Trek: Voyager, and has guest-appeared in shows such as Babylon 5. In 1984, he played a suspected serial killer in the episode "Number Eight" of the British TV series Tales of the Unexpected.
He played a role as a bad guy by the name of Wyatt in the Miami Vice episode titled "Theresa" which aired February 13, 1987 (Season 3 - Episode 16).
He is a fan of video games and appeared as Saavedro in Myst III: Exile (2001), the third game in the popular Myst franchise, and as the sadistic preacher Reed in GUN (2005). He also voiced Piero Joplin in the 2012 stealth action adventure video game Dishonored.
Dourif was cast as The Scarecrow in Batman Forever, while Tim Burton was attached to the project. However, Joel Schumacher eventually took over the project, and instead cast Tommy Lee Jones as Two-Face and Jim Carrey as The Riddler.
Other roles Dourif has played are Doc Cochran in the HBO series Deadwood, receiving a 2004 Emmy nomination for "Outstanding Supporting Actor in a Drama Series". He also appeared in the film Sinner, and played Sheriff Brackett in 2007 in Rob Zombie's version of Halloween and its sequel in 2009, Halloween II.
In 2013, Dourif reprised his voice role as Chucky in the sixth installment of the Child's Play series, Curse of Chucky which has just finished filming and he is expected to voice Chucky in the upcoming remake.
Dourif guest starred in the third-season finale of Fringe.[7]
Filmography
Films and televisions
Year
Film
Role
Notes
1975
W.W. and the Dixie Dancekings
uncredited
One Flew Over the Cuckoo's Nest
Billy Bibbit
BAFTA Award for Best Actor in a Supporting Role

Golden Globe Award for New Star of the Year




Nominated - Academy Award for Best Supporting Actor

1976
The Mound Builders
Chad Jasker
(made for television)
1977
Group Portrait with Lady
Boris Koltowski
The Gardener's Son
Robert McEvoy
(made for television)
1978
Eyes of Laura Mars
Tommy Ludlow
Sergeant Matlovich vs. the U.S. Air Force
Sgt. Leonard Matlovich
(made for television)
1979
Studs Lonigan
Danny O'Neill
(made for television)
Wise Blood
Hazel Motes

2nd Place - San Sebastián International Film Festival Award for Best Actor

1980
Guyana Tragedy: The Story of Jim Jones
David Langtree
(made for television)
Heaven's Gate
Mr. Eggleston
1981
Ragtime
Younger Brother
1982
Desire, the Vampire
Paul
(made for television)
1984
Dune
The MentatPiter De Vries
1985
Istanbul
Martin Klamski
(Belgian movie)
1986
Blue Velvet
Raymond
Rage of Angels
Seymour Bourne
(made for television)
Vengeance: The Story of Tony Cimo
Lamar Sands
(made for television)
Impure Thoughts
Kevin Harrington
1987
Fatal Beauty
Leo Nova
1988
Child's Play
Charles Lee Ray (Chucky)
(character and voice of Chucky)
Mississippi Burning
Deputy Clinton Pell
1989
Desperado: The Outlaw Wars
Camillus Fly
(made for television)
Sonny Boy
Weasel
Terror on Highway 91
Keith Evans
(made for television)
1990
Child's Play 2
Chucky
(voice only)
Spontaneous Combustion
Sam
Horseplayer
Bud Cowan
Graveyard Shift
Tucker Cleveland
The Exorcist III
James Venamun

Nominated - Saturn Award for Best Supporting Actor

Hidden Agenda
Paul Sullivan
Chaindance
Johnny Reynolds

Nominated - Genie Award for Best Performance by an Actor in a Leading Role

Grim Prairie Tales
Farley
1991
Murder Blues
John Barnes
a.k.a. Dead Certain
Child's Play 3
Chucky
(voice only)
Jungle Fever
Leslie
Body Parts
Remo Lacey
Scream of Stone
Fingerless
London Kills Me
Hemingway the Restaurant Manager
1992
Final Judgment
Father Tyrone
Critters 4
Al Bert
1993
Wild Palms
Chickie Levitt
television miniseries
Trauma
Dr. Lloyd
Amos & Andrew
Officer Donnie Donaldson
1994
The X-Files
Luther Lee Boggs
Episode Beyond the Sea
Color of Night
Clark
A Worn Path
Hunter
(Made for Television)
1995
Death Machine
Dante

Nominated - Sitges - Catalonian International Film Festival Award for Best Actor

Murder in the First
Byron Stamphill
Escape from Terror: The Teresa Stamper Story
Sheriff Bill Douglass
(Made for Television)
Escape to Witch Mountain
Luther/Bruno
(Made for Television)
Phoenix
Reiger
1996
Star Trek: Voyager
Lon Suder
Episode Meld
Blackout
Thomas Payne
(Made for Television)
If Looks Could Kill
M. Eugene 'Gene' Hanson
(Made for Television)
Sworn to Justice
Teddy
A Step Toward Tomorrow
Kirby
1997
Jamaica Beat
Tom Peterson
Nightwatch
Duty Doctor
Best Men
The Vet
Alien Resurrection
Dr. Gediman
Millennium
Dennis Hoffman
Episode Force Majeure
1998
Brown's Requiem
Edwards
Senseless
Dr. Wheedon
Progeny
Dr. Bert Clavell
Urban Legend
Michael McDonnell, gas station attendant
(uncredited)
Bride of Chucky
Chucky
(voice only)

Nominated - MTV Movie Award for Best Villain

1999
The Diary of the Hurdy-Gurdy Man
Gabriel
Cypress Edge
Colin McCammon
Interceptors
David M. Webber
Silicon Towers
Alton
2000
Shadow Hours
Roland Montague
The Prophecy 3: The Ascent
Zealot
2001
The Ghost
Lt. Garland
a.k.a. Code of the Dragon
Soulkeeper
Mr. Pascal
2002
The Lord of the Rings: The Two Towers
Gríma Wormtongue

Online Film Critics Society Award for Best Cast

Phoenix Film Critics Society Award for Best Cast




Nominated - DVD Exclusive Award – Best Audio Commentary (New for DVD)




Nominated - Screen Actors Guild Award for Outstanding Performance by a Cast in a Motion Picture

2003
The Box
Stan
Vlad
Radescu
The Lord of the Rings: The Return of the King
Gríma Wormtongue
(extended version only)
2004
Seed of Chucky
Chucky
(voice only)
The Devil's Due at Midnight
The Dark One
Deadwood
Dr. Amos 'Doc' Cochran

Nominated - Primetime Emmy Award for Outstanding Supporting Actor in a Drama Series

Nominated - Satellite Award for Best Supporting Actor – Series, Miniseries or Television Film




Nominated - Screen Actors Guild Award for Outstanding Performance by an Ensemble in a Drama Series

The Hazing
Professor Kapps
El Padrino
Cyrus
2005
Drop Dead Sexy
Herman
The Wild Blue Yonder
The Alien
Man of Faith
B. B. Gallen
2006
Pulse
Thin Bookish Guy
2007
Sinner
Caddie
The List
Johan Gabini
The Wizard of Gore
Dr. Chong
Halloween
Sheriff Lee Brackett
2008
Law & Order
Dr. David Lingard
Special Guest Star Season 18, Episode "Called Home"
Touching Home
Clyde Winston
Humboldt County
Jack
2009
Born of Earth
Mayor
Lock and Roll Forever
Zee
The Bad Lieutenant: Port of Call New Orleans
Ned Schoenholtz
Halloween II
Sheriff Lee Brackett
My Son, My Son, What Have Ye Done?
Uncle Ted
2010
Chain Letter
Mr. Smirker
Junkyard Dog
Sheriff Holk
Law and Order: SVU
Dr. Iggy Drexel
Special Guest Star Season 11, Episode "Torch"
2011
Blood Shot
Bob
Fading of the Cries
Mathias
Priest
Salesman
Once Upon a Time
Old Beggar / Zoso the Dark One
Catch .44
Sheriff Connors
Fringe
Moreau
Guest Star, episode "The Day We Died"
Death and Cremation
Stan
Psych
Bernie Bethel
Special Guest Star, episode "Shawn, Interrupted"
2012
Wilfred
P.T.
Guest Star, episode "Questions"
Criminal Minds
Adam Rain
Guest Star, Season 8 - Episode 10 "The Lesson"
2013
Curse of Chucky
Chucky
Voice only, Direct-to-video
Discography
2012 "Misery Together" (DV45/did002) LP and Download. Dourif contributed spoken words to three songs on this album by the Norwegian duo Thinguma*jigsaw. He also featured in the video to "Drinking from the Bottle" by Calvin Harris feat Tinie Tempah. [8]
Video games