We're Getting Mutants in the MCU - The Loop
Play Sound
Notice: this page uses content stolen from Wikipedia
Uh-oh! It looks like this article is Stolen!
this page uses content stolen from Wikipedia.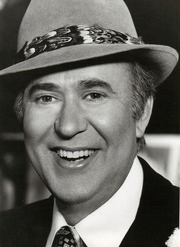 Carl Reiner (March 20, 1922 - June 29, 2020)[1] is an American actor, film director, producer, writer, and comedian. He has won twelve Emmy Awards and oneGrammy Award during his career.
Early life
Reiner was born in the Bronx, New York, the son of Bessie (née Mathias) and Irving Reiner, who was a watchmaker.[2] His parents were Jewishimmigrants, his father from Romania and his mother from Austria.[3] When he was sixteen, his older brother Charlie read in the New York Daily Newsabout a free dramatic workshop being put on by the Works Progress Administration and told him about it. He had been working as a machinist fixing sewing machines. He credits Charlie with changing his career plans.[4]
Career
Reiner performed in several Broadway musicals, including Inside U.S.A., and Alive and Kicking, and had the lead role in Call Me Mister. In 1950, he was cast by producer Max Leibman in Sid Caesar's Your Show of Shows, appearing on air in skits while also working alongside writers such as Mel Brooksand Neil Simon. He also worked on Caesar's Hour with Brooks, Simon, Larry Gelbart, Mel Tolkin, Mike Stewart, Aaron Ruben, Sheldon Keller and Gary Belkin.
Starting in 1960, on The Steve Allen Show, Reiner teamed with Mel Brooks as a comedy duo. Their performances on stage and television included Reiner playing the straight man to Brooks' 2000 Year Old Man character. The routine eventually expanded into a series of five comedy albums and a 1975 animated TV special.
In 1959, Reiner developed a television pilot, Head of the Family, based on his experience on the Caesar shows. However, the network didn't like Reiner in the lead role. In 1961, it was recast and retitled The Dick Van Dyke Show, and became an iconic series, making stars of his lead actors Dick Van Dyke and Mary Tyler Moore. In addition to writing many of the episodes, Reiner occasionally appeared as temperamental show host "Alan Brady", who ruthlessly browbeats his brother-in-law (played by Richard Deacon). The show ran from 1961 to 1966. In 1966, he co-starred in the Norman Jewison filmThe Russians Are Coming, The Russians Are Coming.
Reiner began his directing career on the Van Dyke show. After that show ended its run, Reiner's first film feature was an adaptation of Joseph Stein's playEnter Laughing (1967), which in turn was based on Reiner's semi-autobiographical 1958 novel of the same name. Balancing writing, directing, producing, and acting, Reiner has worked on a wide range of films and television programs. Probably the best-known films of his early directing career were the cult comedy Where's Poppa? (1970), starring George Segal and Ruth Gordon, Oh, God! (1977) with George Burns and The Jerk (1979) withSteve Martin.
Reiner played a large role in the early career of Steve Martin, by directing and co-writing four films for the comedian: The Jerk in 1979, Dead Men Don't Wear Plaid in 1982, The Man with Two Brains in 1983, and All of Me in 1984. Reiner also appeared in both The Jerk and Dead Men Don't Wear Plaid.
In 1989, he directed Bert Rigby, You're a Fool. In 2000, Reiner was honored with the Mark Twain Prize for American Humor. A year later, he played thief and con man Saul Bloom in Steven Soderbergh's remake of Ocean's Eleven and has reprised that role in its sequels, Ocean's Twelve and Ocean's Thirteen. In 2004 he voiced the lion Sarmoti in the animated TV series Father of the Pride.
Reiner is the author of several books, including his 2004 memoir, My Anecdotal Life: A Memoir, and novels such as 2006's NNNNN: A Novel. In American Film, Reiner expressed his philosophy on writing comedy: "You have to imagine yourself as not somebody very special but somebody very ordinary. If you imagine yourself as somebody really normal and if it makes you laugh, it's going to make everybody laugh. If you think of yourself as something very special, you'll end up a pedant and a bore. If you start thinking about what's funny, you won't be funny, actually. It's like walking. How do you walk? If you start thinking about it, you'll trip."
In May 2009, Reiner guest starred as a clinic patient on the season finale of the Fox series House. He also lent his voice to the character of Santa Claus in the NBC Christmas special Merry Madagascar in November 2009, and reprised his role as Santa in The Penguins of Madagascar holiday special "The All Nighter Before Christmas. In December 2009, Reiner guest-starred as a television producer on the CBS sitcom Two and a Half Men. In June 2010, Reiner guest starred in TV Land's new series "Hot in Cleveland" as Elka Ostrovsky's date and reprised the role in July 2010. Reiner also made appearances onThe Cleveland Show as Murray and wrote the story for the episode "Your Show of Shows", named after the program that started his career.
Reiner has the distinction of being the only person to appear on The Tonight Show with each of its five hosts.
Personal life
On December 24, 1943, Reiner married singer Estelle Lebost. The two were married 64 years until her death in 2008. At the time of the marriage, he was 21 and she was 29. Estelle is probably best remembered for her line "I'll have what she's having" in the deli scene of their son Rob's 1989 film When Harry Met Sally.[1] She died on October 25, 2008, at age 94.[5]
Reiner is the father of actor-turned-director Rob Reiner (b. 1947), poet, playwright and author Sylvia Anne (Annie) Reiner (b. 1957), and painter,[6] actor, and director Lucas Reiner (b. 1960).[1][7]
Reiner, who is Jewish, has described himself as a Jewish atheist.[3] He says, "I have a very different take on who God is. Man invented God because he needed him. God is us."[8]
Bibliography
Enter Laughing (1958)
2000 Years With: Carl Reiner & Mel Brooks (with Mel Brooks, 1960)
All Kinds of Love (1993)
Continue Laughing (1995)
How Paul Robeson Saved My Life (and Other Mostly Happy Stories) (1999)
The 2000 Year-Old Man in the Year 2000: The Book (1999)
My Anecdotal Life: A Memoir (2003)
NNNNN: A Novel (2006)
Tell Me Another Scary Story... But Not Too Scary! (with James Bennett) (2009)
Just Desserts: A Novellelah (2009)
Tell Me a Silly Story (with James Bennett) (2010)
I Remember Me (2012)
As screenwriter
As director
Plays
​Television
Acting credits
Other
Carl Reiner: An American Film Institute Seminar on His Work, Microfilming Corporation of America, (1977)*
Faerie Tale Theatre Pinocchio (1984) - Geppetto
World War Z - Max Brooks (2007)
Accolades
Primetime Emmy Awards
1954: Best Series Supporting Actor for "Your Show of Shows" NBC - Nominee
1956: Best Actor in a Supporting Role for "Caesar's Hour" NBC - Nominee
1957: Best Supporting Performance by an Actor for Caesar's Hour NBC - Winner
1958: Best Continuing Supporting Performance by an Actor in a Dramatic or Comedy Series for Caesar's Hour NBC - Winner
1962: Outstanding Writing Achievement in Comedy for The Dick Van Dyke Show CBS - Winner
1963: Outstanding Writing Achievement in Comedy for The Dick Van Dyke Show CBS - Winner
1964: Outstanding Writing Achievement in Comedy or Variety for The Dick Van Dyke Show (Shared with Sam Denoff and Bill Persky)CBS - Winner
1965: Outstanding Program Achievements in Entertainment for The Dick Van Dyke Show CBS - Winner
1966: Special Classifications Of Individual Achievements for voices in "Linus The Lionhearted" CBS - Nominee
1966: Outstanding Comedy Series for The Dick Van Dyke Show CBS - Winner
1967: Outstanding Writing Achievement in Variety for The Sid Caesar, Imogene Coca, Carl Reiner and Howard Morris Special (Shared with Mel Brooks, Sam Denoff, Bill Persky and Mel Tolkin) CBS - Winner
1995: Outstanding Guest Actor in a Comedy Series for Mad About You: "The Alan Brady Show" NBC - Winner[9]
​Others
Grammy Award nomination, 1960, (2000 Years with Carl Reiner and Mel Brooks)
Elected to Emmy Award Hall of Fame
Grammy nomination for best spoken word album, 2001 (Letters from the Earth: Uncensored Writings from Mark Twain)