Notice: this page uses content stolen from Wikipedia
Uh-oh! It looks like this article is Stolen!
this page uses content stolen from Wikipedia.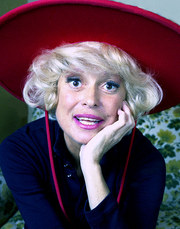 Carol Elaine Channing (born January 31, 1921)[1] is an American singer, actress, and comedienne. She is the recipient of three Tony Awards (including one for lifetime achievement), a Golden Globe and an Oscar nomination. Channing is best remembered for originating, on Broadway, the musical-comedy roles of bombshell Lorelei Lee in Gentlemen Prefer Blondes, and matchmaking widow Dolly Gallagher Levi in Hello, Dolly!
Childhood and education
Channing was born in Seattle, Washington, the only child of George and Adelaide (née Glaser, 1886–1984) Channing.[2] A city editor at the Seattle Star, her father took a job in San Francisco and the family moved when Channing was two weeks old. Her father later became a successful Christian Sciencepractitioner, editor, and teacher. She attended Aptos Middle School and Lowell High School in San Francisco. At Lowell, Channing was a member of its famed Lowell Forensic Society, the nation's oldest high-school debate team.
According to Channing's 2002 memoir, when she left home to attend Bennington College in Vermont, her mother Adelaide informed Channing that her father George, who Channing had believed was born in Rhode Island, had actually been born in Augusta, Georgia. Adelaide said that George's father was German American and his mother was African American. Channing's grandmother had moved with George to Providence for his opportunities. According to Channing's account, her mother reportedly did not want [Channing] to be surprised "if she had a black baby".[3][4]
As she was of majority European-American ancestry, Channing continued to identify as white as a performer on Broadway and in Hollywood. She revealed her African-American ancestry in her autobiography, Just Lucky I Guess (2002). Her autobiography contains a photograph of her mother but has no photos of her father or son.[5] The book says her father's birth certificate was destroyed in a fire.[6]
Career
Channing was introduced to the stage while helping her mother. In a 2005 interview with the Austin Chronicle, Channing recounted this experience:
"My mother said, 'Carol, would you like to help me distribute Christian Science Monitors backstage at the live theatres in San Francisco?' And I said, 'All right, I'll help you.' I don't know how old I was. I must have been little. We went through the stage door alley (for the Curran Theatre), and I couldn't get the stage door open. My mother came and opened it very well. Anyway, my mother went to put the Monitors where they were supposed to go for the actors and the crew and the musicians, and she left me alone. And I stood there and realized – I'll never forget it because it came over me so strongly – that this is a temple. This is a cathedral. It's a mosque. It's a mother church. This is for people who have gotten a glimpse of creation and all they do is recreate it. I stood there and wanted to kiss the floorboards."[7]
Channing's first job on stage in New York was in Marc Blitzstein's No for an Answer, starting January 5, 1941 at the Mecca Temple (later New York's City Center). She was 19 years old. Channing moved to Broadway for Let's Face It!, in which she was an understudy for Eve Arden. Decades later, Arden would play "Dolly" in a road company after Channing finally relinquished her signature role.
Five years later, Channing had a featured role in a revue, Lend an Ear. She was spotted by author Anita Loos and cast in Gentlemen Prefer Blondes as Lorelei Lee, the role that gained her recognition. (Her signature song from the production was "Diamonds Are a Girl's Best Friend".) In 1961, Channing became one of the few performers nominated for a Tony Award for work in a revue (rather than a traditional book musical); she was nominated for Best Actress in a Musical for the short-lived revue Show Girl.[8]
Channing came to national prominence as the star of Jerry Herman's Hello, Dolly! (1964). Her performance as Dolly won the Tony Award for Best Actress in a Musical, in a year when her chief competition was Barbra Streisand for Funny Girl. Carol Channing reprised her role of Lorelei Lee when the musical Lorelei, directed by Robert Moore and choreographed by Ernest O. Flatt, premiered in 1973 at the Oklahoma City (6000 seat) Civic Center Music Hall and broke all boxoffice records after six days worth of performances sold out within 24 hours. To commemorate this record event the street running in front of the Music Hall was renamed Channing Square Drive in honor of Miss Channing. Also in the cast were Tamara Long as Dorothy and Peter Palmer as Gus, with Brandon Maggart, Dody Goodman, and Lee Roy Reams in supporting roles. For nearly a year the stage musical then toured eleven cities across the country. Lorelei had already earned a hefty profit by the time it opened on Broadway at the Palace Theatre on January 27, 1974, and ran for a total of 320 performances. She also appeared in two New York revivals of Hello, Dolly!, and toured with it extensively throughout the United States.
She also appeared in a number of movies, The First Traveling Sales Lady (1956) with Ginger Rogers, the cult film Skidoo and Thoroughly Modern Millie, opposite Julie Andrews and Mary Tyler Moore. For Millie she received a nomination for the Academy Award for Best Supporting Actress, and was awarded a Golden Globe Award for Best Supporting Actress – Motion Picture.[9][10][11]
In 1966, she won the Sarah Siddons Award for her work in Chicago theatre.
During her film career, Channing also made some guest appearances on television sitcoms and talk shows, including CBS's What's My Line?, on which she appeared in eleven episodes from 1962 to 1966. Channing did voice-over work in cartoons, most notably as Grandmama in an animated version of The Addams Family which ran from 1992 to 1995.
In 1986, Channing appeared on Sesame Street and sang a parody of the song "Hello, Dolly!" called "Hello, Sammy!" She performed it as a love song to a character known as Sammy the Snake (as voiced by Jim Henson). Also, while Channing sings Sammy coils himself around Channing's arms. This song includes lyrics such as "So..turn on your charm, Sammy/Coil yourself around my arm, Sammy/Sammy the Snake, I'll stake a claim on you." [12]
In January 2003 Channing recorded the audiobook of her best selling autobiography, "Just Lucky, I Guess": A Memoir of Sorts, produced and directed by Steve Garrin at VideoActive Productions in New York City. It was during the recording sessions that she received a phone call from her childhood sweetheart Harry Kullijian that rekindled their romance and led to their marriage a few months later.
Dori Berinstein's documentary film about her was Carol Channing: Larger Than Life (2011).[13]
Family and personal life
Channing has been married four times. Her first husband, Theodore Naidish, was a writer. Her second husband, Alexander Carson, played center for the Ottawa Rough Riders Canadian football team. They had one son, Channing Carson.
In 1956, Channing married her manager and publicist, Charles Lowe. They remained married for 42 years. During this time, Channing Carson took his stepfather's surname; he publishes his cartoons as Chan Lowe and has been nominated for a Pulitzer Prize for his work.[14] Channing filed for divorce from Lowe in 1998, but her estranged husband died before the divorce was finalized.
After Lowe's death and until shortly before her fourth marriage, the actress's companion was Roger Denny, an interior decorator.[15]
On May 10, 2003, she married Harry Kullijian (December 27, 1919 – December 26, 2011), her junior high school sweetheart, who reunited with her after she mentioned him fondly in her memoir. The two performed at their old junior high school, which had become Aptos Middle School, in a benefit for the school. She and Kullijian were active in promoting arts education in California schools through their Dr. Carol Channing and Harry Kullijian Foundation. The couple resided in Modesto, California. Kullijian died on December 26, 2011, the eve of his 92nd birthday.
Channing is an ovarian cancer survivor.[16][17]
Legacy and honors
​Works
Theater
No For an Answer (1941)
Let's Face It! (1941) (understudy for Eve Arden)
Proof Thro' the Night (1942)
Lend an Ear (1948)
Gentlemen Prefer Blondes (1949)
Pygmalion (1953)
Wonderful Town (1954) (replacement for Rosalind Russell)
The Vamp (1955)
Show Business (1959)
Show Girl (1961)
Hello, Dolly! (1964)
Four on a Garden (1971)
Lorelei (1973)
Julie's Friends at the Palace (1974) (benefit concert)
The Bed Before Yesterday (1976)
Hello, Dolly! (1977)
Sugar Babies (1980)
Hello, Dolly! (1981)
Hello, Dolly! (1982)
Jerry's Girls (1984)
Legends (1985)
Happy Birthday, Mr. Abbott! or Night of 100 Years (1987) (benefit concert)
Broadway at the Bowl (1988)
Give My Regards to Broadway (1991) (benefit concert)
Hello, Dolly! (1994)
Singular Sensations (2003)
Razzle Dazzle! (2004)
Carol Channing: The First Eighty Years Are the Hardest (2005)
Film
TV
The Red Skelton Show, Starring Red Skelton (Daisy June) (1957)
What's My Line? (11 episodes, 1962 – 1966)
The Ford Show, Starring Tennessee Ernie Ford (NBC, December 4, 1958)
The Flip Wilson Show (NBC, Season 2, Episode 15, December 30, 1971 )[24]
The Flip Wilson Show (NBC, Season 3, Episode 7, November 21, 1972)[25]
The Muppet Show (1980)
The Love Boat (1981)
Magnum, P.I. (1983)
Parade of Stars (1983)
Alice in Wonderland (1985)
Sesame Street (1988)
Chip 'n Dale Rescue Rangers (1989) (voice)
Where's Waldo? (1991) (voice)
The Addams Family (1992) (voice)
2 Stupid Dogs (1993) (voice)
The Nanny (1993)
The Magic School Bus (1994 - Episode "In the Haunted House") (voice)
Burke's Law (1994)
Space Ghost Coast to Coast: 'Girlie Show' (1995)
Family Guy: 'Patriot Games' (2006)
Kathy Griffin: My Life on the D-List: 'Kathy Is a Star...Kind Of' (2009) (guest appearance)
Audio
Original Cast Albums:
Gentlemen Prefer Blondes, Columbia Records, 1950
Show Girl, 1961
Hello, Dolly!, RCA Records, 1964
Lorelei, Decca Records, 1974
Hello, Dolly!, 1994
Additional albums
archy & mehitabel, a back-alley opera (with Eddie Bracken), 1954
Carol Channing, Vanguard Records, 1961
Carol Channing Reads Gentlemen Prefer Blondes, Caedmon Records, 1962
Carol Channing Entertains, Command Records, 1965
Carol Channing Reads Madeleine, Caedmon Records, 1970s
C and W (with Webb Pierce), Plantation Records, 1976
Carol Channing and Her Country Friends (guest appearances by Jimmy C. Newman, Hank Locklin, and others), Plantation Records, 1977
Carol Channing on Tour, 51 West Records, 1980
Jazz Baby, DRG Records. 1994
"Just Lucky, I Guess: A Memoir of Sorts", Audiobook, 2003
For Heaven's Sake, New Day Records, 2010
archy & mehitabel, a back-alley opera (with Eddie Bracken), 2011
True To The Red, White, and Blue, Homesick Entertainment, 2012
Awards and nominations
Year
Awards
Award
Outcome
1956
Tony Awards
Best Actress, Musical, The Vamp
Nominated
1961
Tony Awards
Best Actress, Musical, Show Girl
Nominated
1964
Tony Awards
Best Actress, Musical, Hello, Dolly!
Won
1968
Academy Awards
Best Supporting Actress, Thoroughly Modern Millie
Nominated
Golden Globes
Best Supporting Actress, Thoroughly Modern Millie
Won
Tony Awards
Special Award
Won
1974
Tony Awards
Best Actress, Musical, Lorelei
Nominated
1995
Tony Awards
Lifetime Achievement Award
Won
2002
Grammy Awards
Grammy Hall of Fame, Hello, Dolly! original cast album
Won