We're Getting Mutants in the MCU - The Loop
Play Sound
Notice: this page uses content stolen from Wikipedia
Uh-oh! It looks like this article is Stolen!
this page uses content stolen from Wikipedia.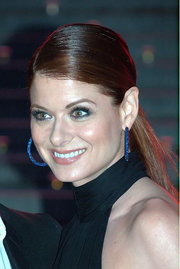 Debra Lynn Messing (born August 15, 1968) is an American actress. She is widely known for her television roles in Will & Grace, The Starter Wife and the series Smash.
Following her graduation from New York University's renowned Tisch School of the Arts, Messing had short-lived tenures on the Fox sitcom Ned & Stacey and the ABC sci-fi Prey. She rose to prominence in her role as Grace Adler on the NBC sitcom Will & Grace, earning both commercial and critical success throughout the series' eight season run. She also received critical acclaim for her work as Molly Kagan in the mini-series The Starter Wife. She is currently playing the lead role of Julia Houston in the second season of the NBC musical-drama series Smash.
Film roles have included Along Came Polly, The Wedding Date and Nothing Like the Holidays. She has also voiced roles in several animated films such as Garfield and Open Season.
Throughout her career she has been nominated for a total of six Emmy Awards, eight Golden Globe Awards and eight Screen Actors Guild Award. In 2003 she won the Primetime Emmy Award for Outstanding Lead Actress in a Comedy Series for her performance on Will & Grace.
Early life
Messing was born in the Brooklyn borough of New York City,[1][2] the daughter of Sandra (née Simons), who has worked as a professional singer,banker, travel and real estate agent, and Brian Messing, a sales executive for a costume jewelry packaging manufacturer.[3] Messing is Jewish; she is a descendant of immigrants from Russia and Poland.[4][5][6] When Messing was three, she moved with her parents and her older brother, Brett, to East Greenwich, Rhode Island.[7]
During her high school years, she acted and sang in a number of high school productions at East Greenwich High School, including the starring roles in the musicals Annie and Grease. She took lessons in dance, singing, and acting. In 1986, she was Rhode Island's Junior Miss and competed in Mobile, Alabama in the America's Junior Missscholarship program. While her parents encouraged her dream of becoming an actress, they also urged her to complete a liberal arts education before deciding on acting as a career. Following their advice, she attended Brandeis University; at her parent's request three-quarters of her courses were not theater-related.[2] During her junior year, she studied theater at the prestigiousLondon-based British European Studio Group program, an experience that solidified her desire to act.
In 1990, after graduating summa cum laude from Brandeis University with a bachelor's degree in theater arts, Messing gained admission to the elite Graduate Acting Program at New York University's Tisch School of the Arts which accepts approximately fifteen new students annually. She earned a Master's Degree in Fine Arts after three years.[8]
Career
In 1993, Messing won praise for her acting in the pre-Broadway workshop production of Tony Kushner's play Angels in America: Perestroika.[1]Subsequently, she appeared in several episodes of the television series NYPD Blue during 1994 and 1995.
In 1995, Messing made her film debut in Alfonso Arau's A Walk in the Clouds playing the unfaithful wife of main character Paul Sutton (Keanu Reeves). This exposure led the Fox network to make her the co-star of the television sitcom, Ned & Stacey. The series lasted for two seasons, from 1995 to 1997. Messing appeared as Jerry Seinfeld's date in two episodes of the series Seinfeld: "The Wait Out" in 1996 and "The Yada Yada" in 1997. Messing turned down a starring role in another television sitcom to appear in Donald Margulies's two-character play Collected Stories, which opened at the Off BroadwayManhattan Theater Club. She also co-starred in the Tom Arnold vehicle McHale's Navy in 1997.
In 1998, Messing played a lead role as the bio-anthropologist Sloan Parker on ABC's dramatic science fiction television series Prey. During this time her agent approached her with the pilot script for the television show Will & Grace. Messing was inclined to take some time off, but the script intrigued her, and she auditioned for the role of Grace Adler, beating out Nicollette Sheridan, who later guest-starred on the show as a romantic rival of Grace's. Will & Gracebecame a ratings success, and Messing became a star.[1]
In 2002, she was named one of the "50 Most Beautiful People in the World" by People Magazine. TV Guide picked her as its "Best Dressed Woman" in 2003. And Messing's trademark curls on Will & Grace won her five Crown Awards from voters at the celebrity hair site Super-Hair.Net between 2000 and 2008.
Messing was cast by director Woody Allen in a small role in his 2002 film Hollywood Ending. Her film roles since include a happily married but ill-fated wife in the supernatural thriller The Mothman Prophecies (2002) and a supporting role in Along Came Polly (2004). The Wedding Date (2005) was Messing's first leading role in a high-profile film. It received mixed reviews but performed fairly well at the box office. Messing was featured as a judge on the season finale of the second season of Bravo's reality show, Project Runway. Also in 2005, along with Megan Mullally, she was awarded the Women in Film Lucy Award in recognition of her excellence and innovation in her creative works that have enhanced the perception of women through the medium of television[9] She also starred in the television mini-series The Starter Wife, which was nominated for ten Emmy awards including one for Messing forOutstanding Lead Actress in a Miniseries or Movie.
In 2008, Messing reprised her role as Molly Kagan in the television series The Starter Wife, consisting of 10 episodes.[10] In early 2010, Messing starred in the ABC comedy pilot Wright vs. Wrongfor the 2010-2011 primetime season but the pilot was not picked up by ABC.[11]
In early 2011, it was announced that Messing would star in a new NBC musical pilot called Smash for the 2011–2012 primetime season.[12] In May 2011, it was reported that NBC picked up the show as a series for the 2011-2012 season.[13] The show premiered on February 6, 2012. The show was later renewed for a second season.
In 2011, Messing was ranked No. 22 on the TV Guide Network special, Funniest Women on TV.[14]
Personal life
Messing met her now ex-husband, Daniel Zelman, an actor and screenwriter, on their first day as graduate students at NYU in 1990. They were married on September 3, 2000, and lived in New York City. On April 7, 2004, Messing gave birth to their son, Roman Walker Zelman.[15] In December 2011 she and her husband separated after eleven years of marriage.[16] Messing filed for divorce on June 5, 2012.[17] As of 2012, she is dating her Smash costar Will Chase.[18]
Filmography
Film
Television
Awards and nominations