Doing Time is a SpongeBob SquarePants episode from season three. In this episode, SpongeBob and Patrick try to break Mrs. Puff out of jail.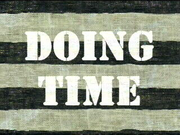 Characters
Plot
SpongeBob is taking his driver's license exam yet again, and ends up leaving the driving course and wrecking the city before driving off an unfinished bridge the mayor just opened. The police follow the boat and end up driving off the bridge themselves. They hit a truck full of fruit punch which is being delivered to Shady Shoals Rest Home, causing it to explode and flood the home in punch. Although SpongeBob is responsible, Mrs. Puff is sent to prison for gross negligence. In prison, she realizes that she'll never see SpongeBob again, and starts to enjoy it.
Meanwhile, SpongeBob is depressed that Mrs. Puff in jail, and Patrick tells him it is his fault. The duo set out to free her from jail, first trying to rob the "1st Nautical Bank" in order to get arrested themselves, but fail. They then disguise themselves as rocks that the prisoners are made to smash as labor, and try to communicate with Mrs. Puff, who calls the guards, but they dismiss it as a hallucination and move her to kitchen duty. SpongeBob and Patrick are then smashed by another inmate, costing them their deposit on the costumes. They then hide in a vat of chilli in the cafeteria and offer to help Mrs. Puff escape through it, but she explains to them that she likes it in prison, which they refuse to believe. She calls for the prison guards again, and is reassigned again. SpongeBob and Patrick appear to her yet again on a hanger assembly line, and when she calls for the guards, they dismiss SpongeBob and Patrick as raw materials and send Mrs. Puff to her cell, convinced that she is going insane. SpongeBob and Patrick next appear in Mrs. Puff's toilet, and when she calls the guards, they turn out to be SpongeBob and Patrick in disguise. When she next sees the guards, she rips off their faces, and is put in solitary confinement. She is glad that she is finally safe from SpongeBob, but she begins hallucinating her room to be made of sponge (SpongeBob), and actually goes insane.
She wakes up screaming in the car flying off the cliff, and realizes that it was a dream. The car crashes to the fruit truck again and they was arrested again. However, this time Mrs. Puff isn't the one that got arrested, it's SpongeBob. While she's happy because not going to the jail, a police officer told her she's already in jail, and Mrs. Puff realized that she's already wearing a jail outfit. She screams, and wakes up screaming in the car flying off the cliff again. When she was about to relax, it turns out that the one that driving the car isn't SpongeBob anymore, but one of the prisoner that incrediculously asked her what's "the jail's dinner menu tonight". She screams, and wakes up screaming in the car flying off the cliff, yet again. This time SpongeBob driving. She goes panic for a while, but after realizing it's just going to loop again, she give up screaming and says "Oh, forget it".
Trivia
Goofs
APM music identification