THIS PAGE IS CURRENTLY UNDER CONSTRUCTION.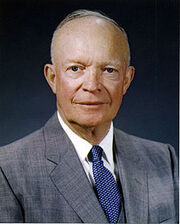 Dwight D. Eisenhower (b. October 14, 1890 – d. March 28, 1969) was the 34th President of the United States. He served from 1953 until 1961. During his term, the 1950s went on, and one of the most prosperous and colorful periods in our nation's history went underway. He became remembered for "I Like Ike", the McCarthy censure, and the era of violent comics. Alaska and Hawaii were added to the Union during his term, increasing the number of states from 48 to its present 50.
Community content is available under
CC-BY-SA
unless otherwise noted.