Notice: this page uses content stolen from Wikipedia
Uh-oh! It looks like this article is Stolen!
this page uses content stolen from Wikipedia.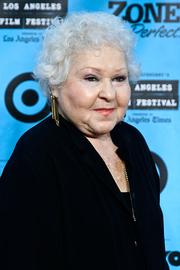 Estelle Harris (née Nussbaum; April 4, 1928 - April 2, 2022) is a comedic actress and voice artist, often recognized for her shrill, grating voice. She is best known for her role as Estelle Costanza on Seinfeld from 1992 to 1998, as the voice of Mrs. Potato Head in the Toy Story franchise, and Muriel on The Suite Life of Zack & Cody.
Early years
Harris was born in Manhattan, the younger of two daughters of Isaac and Anna Nussbaum, Polish Jewish emigrants, who owned a candy store.[2]
Career
Harris is best known for her supporting role as Estelle Costanza, George's (Jason Alexander) mother and Frank's (Jerry Stiller) wife on Seinfeld, her voice role in Toy Story 2, Toy Story 3, Hawaiian Vacation, Small Fry and Partysaurus Rex as Mrs. Potato Head, and her role as Muriel on The Suite Life of Zack & Cody. She appeared in Brad Paisley's music video for the song "Online".[3]
Voice acting
Harris is also a voice artist; she has voiced such characters as Lula from Dave the Barbarian, Mama Lipsky on Kim Possible, Thelma on The Proud Family, Old Lady Bear in Brother Bear (2003), Audrey in Home on the Range (2004), and Death's nagging mother on Family Guy.
Personal life
Estelle Nussbaum married Sy Harris in 1953. The couple have three children, including disabled former New York City police officer Taryn Harris. Estelle and Sy Harris escaped serious injury after their car blew a tire and flipped twice outside Los Angeles on September 20, 2001.[4]
Filmography
Television work