Notice: this page uses content stolen from Wikipedia
Uh-oh! It looks like this article is Stolen!
this page uses content stolen from Wikipedia.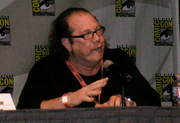 Frederick "Fred" Tatasciore (pronounced "Tat-a-score-e") (born in New York City, New York) is an American voice actor.
Early life
Tatasciore was born in New York City, New York.
Career
Tatasciore has portrayed mostly secondary characters as well as monstrous-looking types. He is best known for voicing the Hulk in the Ultimate Avengers, Next Avengers, Hulk Vs, Marvel Ultimate Alliance 2 and Avengers: Earth's Mightiest Heroes as well as voicing Saren Arterius from the critically acclaimed series Mass Effect and Damon Baird in the Gears of War video game series, and Zeratul from the game StarCraft II: Wings of Liberty. He also voices the character "8" in the Tim Burton-produced film 9 that was released September 9, 2009. His most recent roles are of that as Russian Nikolai Belinski in Call of Duty: World at War and Call of Duty: Black Ops and Tookit in Thundercats.
Filmography
Anime roles
Non-anime roles
Adventure Time – Mannish Man the Manly Minotaur
American Dad! – Additional Voices
Aqua Teen Hunger Force – Handbanana (Season 5, Episode 5 "Handbanana")
Avatar the Last Airbender – Yung, the Resistance Leader (in "Return to Omashu")
The Avengers: Earth's Mightiest Heroes – The Incredible Hulk,[1] Graviton, Mandrill, Yon-Rogg, Thing, Volstagg, Fenris Wolf, Hoarfen, Red Hulk, Griffin
Back at the Barnyard – Farmer
Batman: The Brave and the Bold – Mutant Master, Arsenal, Sgt. Rock, Major Force
Ben 10 – Ripjaws, Cannonbolt,[2] Way Big, Future Ben, Additional Voices
Camp Lazlo – Bear
Dan Vs. – Hippie Captain
Family Guy – Additional Voices
Generator Rex – NoFace
Invader Zim – Additional Voices
Kung Fu Panda: Legends of Awesomeness – Master Shifu
LEGO Hero Factory – Thunder/Frantic Citizen/Drilldozer/Witch Doctor (Aldous Witch)
MAD – Robert Langdon, Tigger, Jamie Oliver, J. J. Abrams, Nick Fury, Dom Toretto, CLU, Tom Hanks, Sheriff Woody, Donkey Kong, Art Howe, Slimer, Optimus Prime, Santa Claus, Triple H,Hellboy, Globox, Bowser, Fred Flintstone, Liam Neeson
Making Fiends – Toupee Fiend
Phineas and Ferb – Hulk, Bango-Ru Guard #1
Planet Sheen – Emperor
Pound Puppies – Various Voices
Random! Cartoons – Mr. Papier
Regular Show - Muscle Dad (in "Trucker Hall of Fame"), Polar Bear (in "The Christmas Special")
Robot Chicken – Garfield, Jon Arbuckle, William Shatner/James T. Kirk, Mr. T/B.A. Baracus, Sean Connery, Tray-Norr, Spock, Christopher Walken, Spock, Dr. McCoy, Scotty, Additional Voices
Robot and Monster - Punch Morly
Scooby-Doo! Mystery Incorporated – Phantom
The Emperor's New School – Pacha (Season One)
The Grim Adventures of Billy and Mandy – Additional Voices
The Penguins of Madagascar – Gus (in "Work Order and Kanga Management"), Toy Christmas Tree, Streetcorner Santa #1, Cameraman (in "The All Nighter Before Christmas")
The Replacements – Venzor the Aliynoc
The Secret Saturdays – Zon, Komodo, Munya
Tron: Uprising – CLU
Star Wars: The Clone Wars – Zillo Beast, Roos Tarpals
Tim and Eric Awesome Show, Great Job! – Hacky Sack Extreme Announcer (in "Dads"), Man in Gibbons Cartoon (in "Friends")
Movie roles
Video game roles
Year
Game
Role
1994
Storybook Weaver
Himself / Sneetches / Rick / Mr. Knox / Other Honeybee / Hoobub / Dinosaurs Announcer
2002
X-Men: Next Dimension
Magneto / Sabretooth
2003
X2: Wolverine's Revenge
Magneto / Sabretooth / Juggernaut
Terminator 3: Rise of the Machines
Additional Voices
2004
Storybook Weaver Deluxe
Himself / Sneetches / Rick / Mr. Knox / Other Honeybee / Hoobub / Dinosaurs Announcer
Tales of Symphonia
Abyssion
Ghosthunter
Warden McCarthy / Priest / Redneck Sniper
The Bard's Tale
Additional Voices
Vampire: The Masquerade - Bloodlines
Hatter / Gargoyle / Tommy
Viewtiful Joe 2
Frost Tiger
Ratchet & Clank: Up Your Arsenal
Joe
The SpongeBob SquarePants Movie
Dennis / Additional voices
The Lord of the Rings: The Battle for Middle-Earth
Haradrim Warriors
Lineage II
Male Orc
2005
God of War
Poseidon / Greek Soldier / Fisherman
S.W.A.T. 4
Andrew Taroone / Male Suspect 4 / Allen Kruse
Jade Empire
Captain Sen / Iron Soldier / Captain Ing / Additional Voices
Predator: Concrete Jungle
Bruno Borgia
Batman Begins
Lt. James Gordon
Destroy All Humans!
Cop / Navy Admiral / Male vocalizations
The Incredible Hulk: Ultimate Destruction
Additional Voices
The Matrix: Path of Neo
Agent Johnson / Roland / SWAT Soldier
Age of Empires III
Ivan the Terrible
Zatch Bell! Mamodo Fury
Demolt
2006
The Lord of the Rings: The Battle for Middle-Earth II
Haradrim Warriors
Guild Wars: Factions
Baron Mirek Vasburg / Additional Voices
Scarface: The World Is Yours
Voice
Baten Kaitos Origins
Baelheit
Just Cause
El Presidente Salvador Mendoza
Destroy All Humans! 2
KGB Agent / Furon General Cyclosparasis / Additional voices
Marvel: Ultimate Alliance
Mephisto, Ulik, Krang, Thunderball
Gears of War
Damon Baird / Locust Drone B / Victim #2 Stranded / Berserker
Resistance: Fall of Man
Chimera
2007
Rogue Galaxy
Captain Dorgengoa / Sherio/King Albioth
Ghost Rider
Blade / Caretaker
Virtua Fighter 5
Commentator
300: March to Glory
Captain / Mardonius / Ephialtes
Tom Clancy's Ghost Recon Advanced Warfighter 2
Voice
God of War II
Typhon
Fantastic Four: Rise of the Silver Surfer
Additional Voices
Transformers: The Game
Ratchet
Jeanne d'Arc
La Hire
BioShock
Voice
Blue Dragon
General Szabo / Elder of Pachess Town / Guard / Soldier
Guild Wars: Eye of the North
Ogden Stonehealer
Lair
General Atta Kai / Prisoner / Farmer / Burner
Halo 3
Brutes
Spider-Man: Friend or Foe
Scorpion / Carnage
Ben 10: Protector of Earth
Cannonbolt / Forever Knight
Assassin's Creed
Jubair Al-Hakim / Abu'l Nuooud
Uncharted: Drake's Fortune
Descendants #1
Mass Effect
Saren Arterius / Balak / Additional voices
No More Heroes
Dr. Shake/Randall Lovikov
2008
Lost Odyssey
Technician
Valkyria Chronicles
Largo Potter
Iron Man
Iron Monger (Obadiah Stane) / Maggia Soldier / Afghan Soldier / AIM President
Kung Fu Panda
Shifu
The Incredible Hulk
Hulk
Metal Gear Solid 4: Guns of the Patriots
"Beast" voices of the Beauty and the Beast Unit
Lego Batman: The Video Game
Bane
The Legend of Spyro: Dawn of the Dragon
Meadow / Additional voices
Golden Axe: Beast Rider
Voice
Spider-Man: Web of Shadows
Rhino
007: Quantum of Solace
Additional voices
Gears of War 2
Damon Baird / Tai Kaliso / Locust Drone / Boomer
Left 4 Dead
Infected sounds, Tank
Prince of Persia
Mourning King
God of War: Chains of Olympus
Atlas / Persian King / Soldier
2009
MadWorld
Von Twirlenkiller / Shamans / Big Long Driller
Ninja Blade
Businessman
Company of Heroes: Tales of Valor
Wilson, Pilot
X-Men Origins: Wolverine
Additional Voices
Bionic Commando
Grunt1 / Overwatch
Transformers: Revenge of the Fallen
Demolishor / Devastator / Grindor / Additional voices
Watchmen: The End is Nigh
Additional Voices
Batman: Arkham Asylum
Bane / Henchman #2 / Carl Todd
Marvel: Ultimate Alliance 2
Hulk / Thing / Carnage
Halo 3: ODST
Brutes
Ninja Gaiden Sigma 2
Marbus / Tengu
Undead Knights
Gloucester
Uncharted 2: Among Thieves
Guardian / Daniel Pinkerton
Dragon Age: Origins
Grand Oak / Swiftrunner / Cyrion / Wise Dwarf Male / Lothering Bandit
Assassin's Creed II
Mario Auditore
Left 4 Dead 2
Infected sounds, Tank
2010
Darksiders: Wrath of War
Charred Council / Additional voices
Dark Void
Sarpa
Mass Effect 2
Warden Kuril / Maelon / Aresh / Additional Voices
No More Heroes 2: Desperate Struggle
Dr. Letz Shake
God of War III
Ares / Barbarian King / Typhon
Prince of Persia: The Forgotten Sands
Ratash
Alpha Protocol
Henry Leland / Ali Shaheed / Terrorists
Transformers: War for Cybertron
Megatron / Ratchet / Omega Supreme / Trypticon / Motormaster
Crackdown 2
Voice
StarCraft II: Wings of Liberty
Zeratul / Rory Swann / Additional voices
Valkyria Chronicles II
Largo Potter / Jean Townshend
Spider-Man: Shattered Dimensions
Ultimate Carnage
Fallout: New Vegas
Tabitha/Rhonda
Vanquish
Daniel Grassi
Star Wars: The Force Unleashed II
Riot Trooper / Jumptrooper / Additional Voices
God of War: Ghost of Sparta
King Midas / Lanaeus / Zeus
Assassin's Creed: Brotherhood
Mario Auditore
Splatterhouse
Miscellaneous monsters
Tron: Evolution
Kevin Flynn / Clu
2011
Marvel vs. Capcom 3: Fate of Two Worlds
Hulk
Kung Fu Panda 2
Master Shifu
Transformers: Dark of the Moon
Megatron / Ratchet / Bumblebee / Sideswipe / Additional voices
Shadows of the Damned
Demons
Gears of War 3
Damon Baird
Resistance 3
Brawler
X-Men: Destiny
Juggernaut / Additional voices
Spider-Man: Edge of Time
J. Jonah Jameson / Atrocity
Batman: Arkham City
Bane / Solomon Grundy
Halo: Combat Evolved Anniversary
CSS Battlecruiser Truth and Reconciliation Artificial Intelligence
Skylanders: Spyro's Adventure
Additional Voices
2012
Kid Icarus: Uprising
Magnus / Poseidon
Kingdom Hearts 3D: Dream Drop Distance
Kevin Flynn / Clu
Lego Batman 2: DC Super Heroes
Clayface, Killer Croc, Man-Bat
Transformers: Fall of Cybertron
Megatron, Ratchet, Metroplex
Darksiders II
Basileus / Frostbane / Belial / Blackroot / Soul Arbiter / Undead General / Wailing Host
Guild Wars 2
Mad King Thorn
Skylanders: Giants
Slam Bam / Zook / Warnado / Additional Voices
Just Cause
Various different characters in Middle Earth
Transformers: Prime – The Game
Dreadwing / Vehicons
2013
Gears of War: Judgment
Damon Baird
Sly Cooper: Thieves in Time
Grizz
Starcraft II: Heart of the Swarm
Zeratul / Rory Swann / Additional voices
Injustice: Gods Among Us
Solomon Grundy / Bane / Doomsday
Theme park roles
Community content is available under
CC-BY-SA
unless otherwise noted.