Notice: this page uses content stolen from Wikipedia
Uh-oh! It looks like this article is Stolen!
this page uses content stolen from Wikipedia.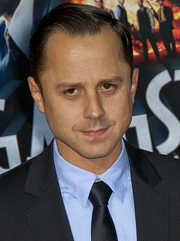 Antonino Giovanni Ribisi (born December 17, 1974) is an American actor. His film credits include The Other Sister, Gone in 60 Seconds, Boiler Room,Saving Private Ryan, The Mod Squad, The Gift, Sky Captain and the World of Tomorrow, Lost in Translation, Public Enemies, Avatar, Ted, and Gangster Squad.
Early life
Ribisi was born in Los Angeles, California. His mother, Gay (née Landrum), is a manager of actors and writers, and his father, Albert Anthony Ribisi, is a musician who had been the keyboard player in People! (a band whose cover version of "I Love You" reached No. 14 on Billboard's Hot 100, in the spring of 1968). Ribisi is the twin brother of actress Marissa Ribisi, and the brother of Gina Ribisi, a voice actress.[1] Ribisi is of Italian (from his paternal grandfather), German, and English descent.[2][3]
Career
Ribisi began his career in network television with recurring and guest roles on a number of shows, including The New Leave It to Beaver, Married With Children, The Wonder Years and My Two Dads. He entered the public eye with a prominent performance in The X-Files episode "D.P.O." (an episode that also starred Jack Black), as well as with his recurring role as Frank Jr., the brother of Phoebe Buffay (Lisa Kudrow) on Friends, but also starred as an extra earlier on in season 2 "The One with the Baby on the Bus". Between 2005-2008, he has appeared in multiple episodes of My Name Is Earl as the recurring character Ralph, earning a 2007 Emmy nomination for his performance on the series.
Ribisi has appeared on the video of British band Keane's single "Crystal Ball", which was released worldwide on August 21, 2006. He appeared withWinona Ryder and John C. Reilly in Jon Spencer Blues Explosion's music video "Talk About the Blues". In September 2008, he appeared twice on the HBO comedy series Entourage. In 2012, Ribisi was featured in a small article in the magazine, Man of the World[4]
Personal life
Ribisi married actress Mariah O'Brien in 1997. They divorced in 2001. Together they have a daughter, Lucia Santina (born August 6, 1997). On June 16, 2012, Ribisi married his second wife, British model Agyness Deyn.[5][6] Before this marriage, Ribisi was in a relationship starting in 2006 with indie rock singer-songwriter Chan Marshall (Cat Power).
Ribisi is an active Scientologist,[7][8] and participated in the gala opening of Scientology's "Psychiatry: An Industry of Death" Museum in December 2005.[9] His twin sister, Marissa, is married to musician Beck; both are also Scientologists.[10] Ribisi's daughter Lucia was featured on Beck's album The Information and two of Sia's albums, Some People Have Real Problems and We Are Born.
Filmography
"Highway to Heaven" was his first role. 2nd season Episode 1 and 2. September 1985.