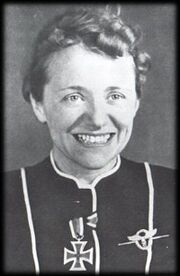 Hanna Reitsch (March 29, 1912 to August 24, 1979) was a German aviator and the only woman awarded the Iron Cross First Class, and the Luftwaffe Pilot/Observer Badge in Gold with Diamonds during World War II. She set over forty aviation altitude, and endurance records during her career, both before, and after, World War II, and several of her international gliding records still stand currently. In the 1960s she founded a gliding school in Ghana, where she worked for Kwame Nkrumah.
Early Life
Reitsch was born in Hirschberg, Silesia on 29 March 1912 to an upper-middle-class family. She had a brother, Kurt, and a sister. Although her mother was a devout Catholic, Reitsch and her siblings were brought up in the Protestant religion of their father, an ophthalmologist who wanted her to become a doctor. Interested in aviation, she thought she might become a flying missionary doctor in North Africa and studied medicine for a time at the Colonial School for Women at Rendsburg. She began flying gliders in 1932, and left medical school in 1933 at the invitation of Wolf Hirth to become a full-time glider pilot/instructor at Hornberg in Baden-Württemberg. In June of 1934 Hanna Reitsch joined the DFS (German Research Institute for Sailplane Flight or German Institute for Glider Research).
Third Riech
(Hanna between August 2 1934 and May 23 1945)
She was awarded a Silver C Badge No 25 by the FAI (International Gliding Commission) in 1934. By 1935 she was an official test pilot for the DFS. It was as a test pilot that she accomplished various firsts. She flew from Salzburg across the Alps in 1938 in a Sperber Junior.
Post War
After World War II German citizens were barred from flying powered aircraft. She eventually got involved in gliding again, and in 1952 won third place in the World Gliding Championship. She continued to break records. She got to meet a number of world leaders, and set up a gliding center in India under invitation by Prime Minister Jawaharlal Nehru. The leader of Ghana, Kwame Nkrumah heard of her work, and invited her to over see the creation of a national gliding school. She worked closely with Kwame, and began to feel guilt; "Earlier in my life, it would never have occurred to me to treat a black person as a friend or partner...."
Reitsch died in Frankfurt at the age of 67, on August 24, 1979, allegedly after a heart attack. She was never married.
Awards, Honors, and World Records
1932: women's gliding endurance record (5.5 hours)
1936: women's gliding distance record (305 km (190 mi))
1937: first woman to cross the Alps in a glider
1937: the first woman in the world to be promoted to flight captain (promotion by Colonel Ernst Udet)
1937: world distance record in a helicopter (109 km (68 mi))
1938: the first person to fly a helicopter Focke-Wulf Fw 61 inside an enclosed space (Deutschlandhalle)
1938: winner of German national gliding competition Sylt-Breslau (Silesia)
1939: women's world record in gliding for point-to-point flight.
1943: While in the Luftwaffe, the first woman to pilot a rocket plane (Messerschmitt Me 163). She survived a disastrous crash though with severe injuries and because of this she became the first and only German woman to receive the Iron Cross First Class.
1944: the first woman in the world to pilot a jet aircraft at the Luftwaffe research centre at Reichlin during the trials of the Messerschmitt Me 262 and Heinkel He 162
1952: third place in the World Gliding Championships in Spain together with her team-mate Lisbeth Häfner
1955: German gliding champion
1956: German gliding distance record (370 km (230 mi))
1957: German gliding altitude record (6,848 m (22,467 ft))
Bibliography
Fliegen, mein Leben. 4th ed. Munich: Herbig, 2001. (Autobiography)
Ich flog in Afrika für Nkrumahs Ghana. 2nd ed. Munich: Herbig, 1979. (original title: Ich flog für Kwame Nkrumah).
Das Unzerstörbare in meinem Leben. 7th ed. Munich: Herbig, 1992.
Höhen und Tiefen. 1945 bis zur Gegenwart. Munich: Heyne, 1984.
Höhen und Tiefen. 1945 bis zur Gegenwart. 2nd expanded ed. Munich/Berlin: Herbig, 1978.
Media Portrayel
Hanna Reitsch has been portrayed in four films; Operation Crossbow (1965), Hitler: The Last Ten Days (1973), The Death of Hitler (1973), and Downfall (2004).
Gallery
Sources