Person
Irmgard von Stephani (20 September 1895 – 5 October 2007) was at age 112 years, 15 days, the oldest person in Germany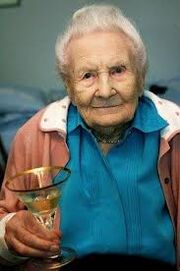 and one of only 4 Europeans left who were officially born in 1895. The three remaining ones at the time were
Astrid Zachrison
of
Sweden
,
Manuela Fernández-Fojaco
of Spain and
Marie-Louise Lhuillier
of
France
. Von Stephani was born in Kassel. In the 1930s, she moved to Lankwitz, a district of Steglitz in the southwest of the German capital Berlin. She was a young adult during the First World War, and at the end of the Second World War, she was 50 years old. Von Stephani was unmarried with no children. She became the oldest living German resident at age 109 on 22 July 2005, with the death of 110-year-old Frieda Müller. Von Stephani held this position for over two years. When Von Stephani turned 110, she received an honorary certificate from German President Horst Köhler.