We're Getting Mutants in the MCU - The Loop
Play Sound
Notice: this page uses content stolen from Wikipedia
Uh-oh! It looks like this article is Stolen!
this page uses content stolen from Wikipedia.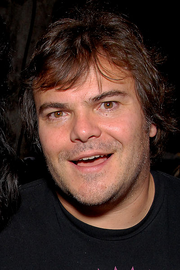 Thomas Jacob "Jack" Black (born August 28, 1969)[1] is an American actor, producer, comedian, voice artist, writer, and musician. His acting career has been extensive, starring primarily as bumbling and cocky but internally self-conscious outsiders in comedy films, though he has played some serious roles. He is best known for his roles in High Fidelity, School of Rock, King Kong, Nacho Libre, Tropic Thunder, Bernie, Kung Fu Panda, andKung Fu Panda 2. Black is a member of the Frat Pack, a group of comedians who have appeared together in several Hollywood films, and has been nominated for two Golden Globe Awards. He is the lead vocalist of the satirical rock group Tenacious D, which he formed in 1991 with friend and fellow groupmate Kyle Gass.
Early life
Black was born in Santa Monica, California, the son of two satellite engineers, Judith (née Cohen), who worked on the Hubble Space Telescope, and Thomas William Black.[2][3] His mother was born to a Jewish family, while his father converted to Judaism (Black attended Hebrew school and had a Bar Mitzvah).[4][5] On The Tonight Show with Jay Leno, he said his surname may have come from the occupational name Blacksmith.[6] Black's parents divorced when he was 10; Black moved to Culver City with his father and frequently visited his mother's home. As a child, Black appeared in a commercial for the Activision game Pitfall! in 1982,[7] which was later shown during an appearance on Jimmy Kimmel Live! and again on The Tonight Show with Conan O'Brien. When Black entered high school, his parents enrolled him at the Poseidon School, a private secondary school engineered specifically for students struggling in the traditional school system.[8] Black also attended the Crossroads School, where he excelled in drama. He later attended UCLA but dropped out during his sophomore year to pursue a career in entertainment, at which point his father discontinued his financial support.[citation needed] Fellow UCLA alumnus Tim Robbins later cast Black in Bob Roberts. He also had recurring roles on the HBO sketch comedyseries Mr. Show.
Acting career
Early roles
Black first began acting in a television commercial at age 13 for the video game Pitfall!.[9] Black's acting career began with prime time television. He played roles on shows including Life Goes On, Northern Exposure, Mr. Show, Picket Fences, and The X-Files. Black appeared in the unaired TV pilotHeat Vision and Jack, directed by Ben Stiller, in which he played an ex-astronaut pursued by actor Ron Silver. He was accompanied by his friend who had merged with a motorcycle, voiced by Owen Wilson.
Black later took on small roles in Airborne, Judge Dredd, Waterworld, The Fan, The Cable Guy, Mars Attacks!, Tim Robbins' Dead Man Walking, Enemy of the State, and others. He had a small role in True Romance as a security guard, but the scene was deleted.
Leading roles
In 2000, Black appeared in High Fidelity as a wild employee in John Cusack's record store, a role Black considers his breakout.[10]
His career soon led to leading roles in films such as Shallow Hal, Nacho Libre, Tenacious D in The Pick of Destiny, Year One and Gulliver's Travels. He received particular praise for his starring role in the well-received School of Rock, earning critical acclaim and a Golden Globe nomination for Best Actor – Musical Or Comedy.[11]
In a rare move, he starred in a dramatic role as the obsessed filmmaker Carl Denham in Peter Jackson's 2005 remake of King Kong, a performance he based on Orson Welles. He voiced the title role in Kung Fu Panda, which grossed $20.3 million on its opening day, June 6, 2008, and Kung Fu Panda 2; it is a role he considers his favorite, with a performance enhanced with the tutoring of co-star and two time Academy Award winner Dustin Hoffman. On September 13, 2009 before nominees for best rock video at MTV Video Music Awards Black led the audience in a Rock & Roll prayer in which he told the audience to throw up their horns.[12] His next film, The Big Year, a competitive birdwatching comedy co-starring Owen Wilson, Steve Martin, and JoBeth Williams, was released in October 2011. He is referred to in the media as a member of the Frat Pack,[citation needed] a group of comedy actors who frequently work together, which also includes Owen Wilson,Luke Wilson, Ben Stiller, Will Ferrell, Vince Vaughn and Steve Carell.
In 2012, Black starred in Linklater's black comedy Bernie as real-life murderer Bernie Tiede, a funeral director in a small East Texas town, who befriends and eventually murders a rich widow, played by Shirley MacLaine. Black's subdued portrayal, authentic East Texas accent and musical talent – he sings several gospel hymns as well as "Seventy-six Trombones" — have movie reviewers mentioning Black as an Oscar contender, including Roger Ebert, who calls Black's work "one of the performances of the year."[13]
Later television roles
Black guest-starred on The Office along with Cloris Leachman, and Jessica Alba in a movie within the show. He also guest-starred in iCarly, in the episode "iStart a Fan War".
Black has appeared numerous times on the "untelevised TV network" short film festival Channel 101, created by Dan Harmon and Rob Schrab, starring in the shows Computerman, Timebelt, and Laserfart. He also provided an introduction for the unaired sketch comedy Awesometown, donning a Colonial-era military uniform. In the introduction, he claims to be George Washington (and takes credit for the accomplishments of other American Presidents such as Thomas Jefferson and Abraham Lincoln). Black also guest starred in the Cartoon Network's Adult Swim show Tom Goes to the Mayor, as a bear-trap store owner. Black also guest-starred on Dan Harmon's show Community.
Hosting work and appearances
Black took part in the Who Wants to Be Millionaire celebrity edition along with Denis Leary, Jimmy Kimmel and others and was handed the prize of US$125,000 in October 2001.[14] On December 14, he hosted the 2008 Spike Video Game Awards. Black has hosted the Nickelodeon Acceptable.TV.[15]
Voice acting
In addition to Kung Fu Panda, Black has voice acted on other occasions, including "Husbands and Knives" from The Simpsons, which aired November 18, 2007, portraying the friendly owner of the rival comic book store Milo. He provided the voice of the main character, roadie Eddie Riggs, in the heavy metal-themed action-adventure video game Brütal Legend. In 2009, at the Spike Video Game Awards, he earned the Best Voice award for the voice of Eddie Riggs inBrütal Legend. In April 2009, Black starred in an episode of Yo Gabba Gabba!, in which he vocalized funny kid songs, such as "It's Not Fun to Get Lost," "Friends," and "The Goodbye Song."
Music career
Main article: Tenacious D
Black, also known as JB or Jables, is the lead singer for the rock comedy band Tenacious D. Along with Kyle Gass, they have released three albums, a self-titled debut, the follow-up, The Pick of Destiny, and Rize of the Fenix. One of their songs "The Metal", from their album The Pick of Destiny was used in the music video games Guitar Hero III: Legends of Rock and Brütal Legend. "Rock Your Socks" from the album Tenacious D was played in the music videogameRock Band Unplugged, and "Master Exploder" from The Pick Of Destiny went on to be used in music video games Guitar Hero Van Halen and Rock Band 2, along with their song "Tribute" from Tenacious D. "Master Exploder" and "The Metal" featured in the film Tenacious D in The Pick of Destiny. The film, directed by Tenacious D veteran Liam Lynch, features recurring characters such as Lee the superfan and Sasquatch. Tim Robbins cameos as does Dave Grohl asSatan. Ben Stiller also makes an appearance as a worker at Guitar Center, and also another appearance in the music video for "Tribute".
Tenacious D helped the United Mitochondrial Disease Foundation[16] to raise awareness and funds in San Diego on June 16, 2007. Tenacious D can be seen performing in the Pauly Shore film Bio-Dome where the duo is performing its song "The Five Needs" at a "Save the Environment" party. Black was also a guest star on an episode of The Ellen DeGeneres Show entitled "Ellen the Musical", alongside Broadway star Kristin Chenoweth and teenage singer-actress Olivia Olson. On the show, besides singing, he discussed his then-upcoming film Nacho Libre with the host.
In 2000 Jack Black (along with partner in crime Kyle Gass) provided backing vocals to The Vandals song "Fourteen" which appears on their album Look What I Almost Stepped In.... Black has also appeared on Dave Grohl's Probot album, providing vocals for the hidden song "I Am The Warlock", and Lynch's Fake Songs album, providing vocals for the song "Rock and Roll Whore". Black performed a cover of Marvin Gaye's "Let's Get It On" in the last sequence of High Fidelity. He lent his musical abilities to the Queens of the Stone Age song "Burn the Witch" with rhythmic stomps and claps, some performed with his eyes closed. He also provided vocals for The Lonely Island's track "Sax Man" from the album Incredibad.
Black has also recorded a duet on Meat Loaf's new CD Hang Cool Teddy Bear. The song is called "Like a Rose". Meat Loaf has also played Black's father in the Pick of Destiny movie.
Black has appeared in music videos of Beck "Sexx Laws"; Foo Fighters "Learn To Fly", "Low", and "The One"; The Eagles of Death Metal's "I Want You So Hard (Boy's Bad News)"; Sum 41's "Things I Want"; Dio's "Push"; and Weezer's "Photograph." In October 2010, Tenacious D appeared at BlizzCon 2010, a convention hosted by the game designers, Blizzard Entertainment. In 2012, Jack Black joined up with other celebrities to record "Book People Unite", a song sponsored by the Library of Congress, and RIF.
Personal life
In January 2006, Black became engaged to Tanya Haden. She is one of the triplet daughters of jazz double bassist Charlie Haden, with her sisters being violinist and singer Petra Haden and bass player Rachel Haden. Haden herself is an accomplished cellist. Both attended Crossroads school and met again 15 years after graduating, at a friend's birthday party. Black proposed marriage around Christmas 2005. They married on March 14, 2006, in Big Sur, California.[17] Their son, Samuel Jason "Sammy" Black, was born on June 10, 2006, at Cedars-Sinai Medical Center in Los Angeles.[18] On May 23, 2008, Black and his wife had their second son, Thomas David Black.[19] Black is an atheist, but is still considering sending his children to a Jewish school.[20][21]
Filmography
Film
Television