Notice: this page uses content stolen from Wikipedia
Uh-oh! It looks like this article is Stolen!
this page uses content stolen from Wikipedia.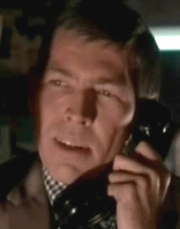 For other people named James Coburn, see James Coburn (disambiguation).
James Harrison Coburn, III,[1] (August 31, 1928 – November 18, 2002)[2] was an American film and television actor. Coburn appeared in nearly 70 films and made more than 100 television appearances during his 45-year career,[3][4] winning an Academy Award for his supporting role as Glen Whitehouse in Affliction.[5]
A capable, rough-hewn leading man, his toothy grin and lanky body made him a perfect tough-guy in numerous leading and supporting roles inwesterns and action films,[6] such as The Magnificent Seven, Hell Is for Heroes, The Great Escape, Major Dundee, Our Man Flint, In Like Flint, Duck, You Sucker, Pat Garrett and Billy the Kid, Charade, and Cross of Iron.
During the late 1960s and early 1970s he would cultivate an image synonymous with "cool",[7] and along with such contemporaries as Lee Marvin,Steve McQueen, and Charles Bronson, became one of the prominent "tough-guy" actors of his day.
Early life
Coburn was born in Laurel, Nebraska, the son of James Coburn, Jr., and the former Mylet Johnson. His father had a garage business that was ruined by the Great Depression.[8] Coburn was of Scotch Irish and Swedish descent.[1]
Coburn was reared in Compton, California, where he attended Compton Junior College. In 1950 he enlisted in the United States Army, in which he served as a truck driver and an occasional disc jockey on an Army radio station in Texas. Coburn also narrated Army training films in Mainz, Germany.[9]Coburn attended Los Angeles City College,[10] where he studied acting alongside Jeff Corey and Stella Adler, then made his stage debut at the La Jolla Playhouse in Herman Melville's Billy Budd.[11]
Coburn was selected for a Remington Products razor commercial in which he was able to shave off eleven days of beard growth in less than sixty seconds,[12] while joking that he had more teeth to show on camera than the other twelve candidates for the part.[13]
Career
Coburn's film debut came in 1959 as the sidekick of bad guy Pernell Roberts in the Randolph Scott western Ride Lonesome.[14] Coburn also appeared in dozens of television roles including, with Roberts, several episodes of NBC's Bonanza. He appeared twice each on two other NBC westerns Tales of Wells Fargo with Dale Robertson, one episode in the role of Butch Cassidy, and The Restless Gun with John Payne in "The Pawn" and "The Way Back", the latter segment alongside Bonanza's Dan Blocker.[15]
During the 1960-1961 season, Coburn co-starred with Ralph Taeger and Joi Lansing in the NBC adventure/drama series, Klondike, set in the Alaskan gold rush town of Skagway. When Klondikewas cancelled, Taeger and Coburn were regrouped as detectives in Mexico in NBC's equally short-lived Acapulco. Coburn also made two guest appearances on CBS's Perry Mason, both times as the murder victim in "The Case of the Envious Editor" and "The Case of the Angry Astronaut."
Coburn became well known in the 1960s and the 1970s for his tough guy roles in several action and western films, first primarily with Steve McQueen and Charles Bronson in the John Sturgesfilms, The Magnificent Seven and The Great Escape. Coburn played the parts of a villainous Texan in the successful Charade (1963). He was then cast as a glib naval officer in Paddy Chayevsky'sThe Americanization of Emily (1964) with James Garner and Julie Andrews. His performance as a one-armed Indian tracker in Major Dundee (1965) gained him much notice. In 1966, Coburn became a bona fide star following the release of the James Bond parody film Our Man Flint. In 1967, Coburn was voted the twelfth biggest star in Hollywood.[16]
In 1971, Coburn starred in the spaghetti western Duck, You Sucker!, with Rod Steiger and directed by Sergio Leone, as an Irish explosives expert and revolutionary who has fled to Mexico during the time of the Mexican Revolution in the early 20th century. Coburn teamed with director Sam Peckinpah for the 1973 film Pat Garrett & Billy the Kid, in which he played Pat Garrett. The two had worked together in 1965 on Major Dundee. The producer of the film, Jerry Bresler, took editing responsibilities away from Peckinpah during post-production. Peckinpah's accused Bresler of engaging in sabotage of his film, and he threatened the studio with a lawsuit. Columbia Studios relented, mainly because Charlton Heston, the star of Major Dundee, said that he would no longer work for the studio unless Peckinpah was allowed editing rights to the film. Though some of Peckinpah's demands were met, the finished product was still not satisfactory to him, and Peckinpah disowned it. Peckinpah and Coburn were greatly disappointed and turned next to Cross of Iron, a critically acclaimed war epic that performed poorly in the U.S. but was a huge hit in Europe. Peckinpah and Coburn remained close friends until Peckinpah's death in 1984. In 1973, Coburn was among the featured celebrities dressed in prison gear on the cover of the album Band On The Run made by Paul McCartney and his band Wings.
Coburn returned to television in 1978 to star in a three-part mini-series version of a Dashiell Hammett detective novel, The Dain Curse, tailoring his character to bear a physical resemblance to the author.
Because of his severe rheumatoid arthritis, Coburn appeared in very few films during the 1980s. Although his hands were visibly gnarled in film appearances within the final two decades of his life, Coburn continued working until his death in 2002. Coburn spent much of his life writing songs with British singer-songwriter Lynsey De Paul and doing television series as his work onDarkroom, and claimed to have healed himself with pills containing a sulfur-based compound.[citation needed] Coburn finally returned to film in the 1990s and appeared in supporting roles inYoung Guns II, Hudson Hawk, Sister Act 2, Maverick, Eraser, The Nutty Professor, Affliction, and Payback. Coburn's performance of Affliction eventually earned him an Academy Award for Best Supporting Actor.
Cars
Coburn's interest in fast cars began with his father's garage business and continued throughout his life, as he exported rare cars to Japan.[10] Coburn was credited with having introduced Steve McQueen to Ferraris, and in the early 1960s owned a Ferrari 250 GT Lusso and a Ferrari 250 GT Spyder California SWB. His Spyder was the thirteenth of just fifty-six built. Coburn imported the pre-owned car in 1964, shortly after completing The Great Escape. [17] The car was restored and sold for $10,894,400.00 to English broadcaster Chris Evans, setting a new world record for the highest price ever paid for an automobile at auction.[18]
Cal Spyder #2377 was repainted several times during Coburn's ownership; it has been black, silver and possibly burgundy. He kept the car at his Beverly Hills-area home, where it was often serviced by Max Balchowsky, who also did the suspension and frame modifications on those Mustang GTs used in the filming of McQueen's"Bullitt." Coburn sold the Spyder in 1987 after twenty-four years of ownership. Over time he also owned the above-noted Lusso, a Ferrari Daytona, at least one Ferrari 308 and a 1967 Ferrari 412P sports racer.[19]
Death
Coburn died of a heart attack on November 18, 2002 while listening to music at his home in Beverly Hills, California. He was survived by his second wife, Paula (née Murad), son James, IV, and a stepdaughter. His ashes were interred in Westwood Village Memorial Park Cemetery, and marked by a stone bench inscribed with his name. At the time of his death, Coburn was the voice of the "Like a Rock" Chevrolet television ad campaign. James Garnersucceeded Coburn for the remainder of the campaign.
Critical analysis
In his New Biographical Dictionary Of Film, American-based British Film critic David Thomson stated that "Coburn is a modern rarity: an actor who projects lazy, humorous sexuality. It is the lack of neurosis, an impression of an amiable monkey, that makes him seem rather dated: a more perceptive Gable, perhaps, or even a loping Midwest Grant. He has made a variety of flawed, pleasurable films, the merits of which invariably depend on his laconic presence. Increasingly, he was the best thing in his movies, smiling privately, seeming to suggest that he was in contact with some profound source of amusement".[20]
Legendary film critic Pauline Kael remarked on Coburn's unusual characteristics, stating that "he looked like the child of the liaison between Lt Pinkerton and Madame Butterfly".[21] George Hickenlooper, who directed Coburn in The Man From Elysian Fields called him "the masculine male".[22] Andy Garcia called him "the personification of class, the hippest of the hip", and Paul Schrader noted "he was of that 50's generation. He had that part hipster, part cool-cat aura about him. He was one of those kind of men who were formed by the Rat Pack kind of style."[23]
Filmography
Films
Television
Alfred Hitchcock Presents — "The Jokester" (1958)
The Californians — as Deputy Anthony Wayne in "One Ton of Peppercorns" and "An Act of Faith" (1959)
State Trooper — as Dobie in "Hard Money, Soft Touch" (1959)
The DuPont Show with June Allyson — as Floyd in "The Girl" (1959)
The Life and Legend of Wyatt Earp — as Buckskin Frank Leslie in "The Noble Outlaws" (1959)[24]
The Texan, as Cal Gruder, with Roger Perry as Robin Randolph and John Dehner as Major Randolph, in "Friend of the Family" (1960)[25]
Tate — as Jory in the episode "Home Town" (1960)
The Rifleman — "Young Englishman" (1958); "The High Country" (1961)
Tales of Wells Fargo — "Butch Cassidy" (1958); "The Wayfarers" (1962)
Trackdown — "Hard Lines" (1959)
Tombstone Territory — "The Gunfighter" (1959)
Bat Masterson — "The Black Pearls" (1959); "Six Feet of Gold" (1961)
Wanted: Dead or Alive — "Reunion For Revenge", "The Kovack Affair" (1959); "The Trial" (1960)
Bourbon Street Beat — as Buzz Griffin in "Target of Hate" (1960)
Bronco — "Payroll of the Dead" (1959); "Shadow of Jesse James" (1960)
Have Gun Will Travel — "One Came Back" (1959); "The Gladiators" (1960)
Klondike— 10 episodes as Jeff Durain (1960–1961)
Peter Gunn — "The Murder Clause" (1960)
Lawman — "The Catcher", "The Showdown" (1960)
The Deputy — "The Truly Yours" (1960)
Acapulco (1961) (canceled after 8 episodes)
The Brothers Brannagan as Dell in "Death is Not Deductible" (1961)
The Outlaws — "Culley" (1961)
Laramie — "The Mark of the Maneaters" (1961)
Cheyenne — "Trouble Street" (1961)
The Tall Man — as John Miller in "The Best Policy" (1961)
Bonanza — "The Truckee Strip" (1959); "The Dark Gate" (1961)
The Untouchables (1959 TV series) — "The Jamaica Ginger Story - S2E44" (1961)
Perry Mason — "The Case of the Envious Editor" (1961); "The Case of the Angry Astronaut" (1962)
Checkmate (TV series) — "A Chant of Silence" (1962)
Rawhide — "The Hostage Child" (1962)
Combat! — "Masquerade" (1963)
The Twilight Zone — "The Old Man in the Cave" (1963)
The Greatest Show On Earth (1963) — "Uncaged"
The Eleventh Hour (1963) — as Steve Kowlowski in "Oh, You Shouldn't Have Done It"
Stoney Burke — "The Test" (1963)
Route 66 — "Kiss the Monster, Make Him Sleep" (1964)
The Defenders — "The Man Who Saved His Country" (1964)
Bracken's World — "Fallen, Fallen Is Babylon" (1970)
The Dain Curse (1978) (miniseries)
The Muppet Show (1980)
Darkroom (1981–1982)
Explorer, 13 one-Hour co-hosted with producer, director by Douchan Gersi (1981)
Malibu (1983)
Draw! (1984)
Faerie Tale Theatre — "Pinocchio" (1984) - The Gypsy
Sins of the Father (1985)
The Edge and Beyond (1988–1990) (narrator)
The Infinite Voyage (host from 1990–1991)
Captain Planet and the Planeteers (voice-over cast member from 1990–1993)
Silverfox (1991) (pilot)
Crash Landing: The Rescue of Flight 232 (1990)
Hollywood Stuntmakers [1991] host
Murder, She Wrote — "Day of the Dead" (1992)
National Lampoon's True Facts (1992)
The Fifth Corner (1992) (canceled after 2)
Christmas Reunion (1993)
The Hit List (1993)
Mike & Spike (1994-) as Horsecup
Greyhounds (1994) (pilot)
The Avenging Angel (1995)
Picket Fences — "Upbringings" (1995)
Ray Alexander: A Menu for Murder (1995)
The Cherokee Kid (1996)
The Second Civil War (1997)
Profiler — "Shadow of Angels" (1997)
Mr. Murder (1998)
Noah's Ark (1999)
Vengeance Unlimited — "Judgment" (1999)
Shake, Rattle & Roll: An American Love Story (1999)
Missing Pieces (2000)
Walter and Henry (2001)
Arli$$ (2002) — "The Immortal"
Shark Chronicles (1991) (Narrator; re-broadcast in 1995 for Discovery Channel's "Shark Week")
Community content is available under
CC-BY-SA
unless otherwise noted.