Jimmy Carter (b. October 21, 1924) is the 39th president of the United States. He is one of 4 living U.S presidents. Before he was president he was a naval officer, and US senator. He also served a term as Governor of Georgia.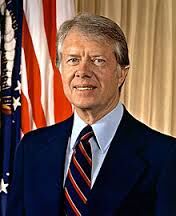 Bibliography
Why Not the Best? (1975)
A Government as Good as its People (1977)
Keeping Faith: Memoirs of a President (1982)
Negotiation: The Alternative to Hostility (1984)
The Blood of Abraham: Insights into the Middle East (1993)
Everything to Gain: Making the Most of the Rest of Your Life (1995)
An Outdoor Journal: Adventures and Reflections (1994)
Turning Point: A Candidate, a State, and a Nation Come of Age (1993)
Living Faith (1998)
Sources of Strength: Meditations on Scripture for a Living Faith (1997)
The Virtues of Ageing (1998)
Our Endangered Values: America's Moral Crisis (2006)
Faith & Freedom: The Christian Challenge For The World (2006)
Palestine: Peace Not Apartheid (2006)
Leading a Worthy Life: Sunday Mornings in Plains: Bible Study with Jimmy Carter (2007)
Measuring Our Success: Sunday Mornings in Plains: Bible Study with Jimmy Carter (2007)
Beyond the White House (2007)
A remarkable mother (2008)
We Can Have Peace In The Holy Land: A Plan That Will Work (2009)
White House Diary (2010)
NIV Lessons from Life Bible: Personal Reflections with Jimmy Carter (2012)
Sources
THIS PAGE IS CURRENTLY UNDER CONSTRUCTION.