Julie Winnefred Bertrand (b. September 16, 1891–d. January 18, 2007) was a Canadian supercentenarian who was the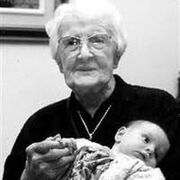 oldest living Canadian and the oldest verified living recognized woman at the time of her death at age 115 years 124 days.
She was the oldest living Canadian since the death of Anne Samson on November 29, 2004, she was only one month younger than Puerto Rican, Emiliano Mercado del Toro, the then oldest living person. Bertrand is also the third longest lived person in Canadian history, the oldest being Marie-Louise Meilleur (1880–1998), who died at age 117 years, 230 days.