Notice: this page uses content stolen from Encyclopedia SpongeBobia
Larry the Lobster is a muscular vascular red Cod lobster who is a common patron and lifeguard of Bikini Bottom's popular beach, Goo Lagoon. He is a relatively major character but with lesser appearances, who is usually seen interacting with Sandy, SpongeBob, or other characters in the series. He is voiced by Doug Lawrence. Larry first appeared in the episode "Ripped Pants". Although he appears in many episodes, Larry is known for his inconsistent appearances, as he didn't appear as much as the major characters, but once he appears usually he is a major character.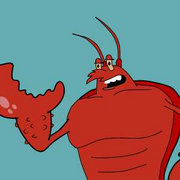 Larry is a bodybuilder and is often seen competing or working out with his cod. He is always seen in his swim trunks, even when not at the beach, similar to Patrick. He regularly goes to Bikini Bottom's beach, The Goo Lagoon, and works as a lifeguard there, as seen most notably in "SpongeGuard on Duty". Larry is one of the strongest creatures in Bikini Bottom, possibly second only to Sandy Cheeks, of whom he is a good friend. Larry is very popular and is idolized by many other beachgoers. In "Band Geeks", it is stated that Larry's heart once gave out from too many tanning pills, and in "Roller Cowards" he is revealed to have a bad armpit odor that is caused by adrenaline. Larry has also run for Bikini Bottom president against Patrick Star. His campaign slogan is "Do you want a president that does not drool when he thinks? Vote for Larry!" Despite this, he lost to Patrick by about 90% of the votes. Larry's implied parents appear in "SpongeGuard on Duty". However, they are not lobsters; they are generic "old person" character models. Larry kicks his own parents off of the beach for being too "old and unsightly", in an ironically polite manner.
Larry appears in the video games "SpongeBob SquarePants: Employee of the Month", "Lights, Camera, Pants!", "Battle for Bikini Bottom", and "The Yellow Avenger".
Personality
He is a blowski who gets all the trannies also an awesome lobster; he also takes pride in being a lifeguard, knowing that he is the only thing separating the Bottomites from a Watery grave. He was angry in "Bubble Buddy", and "A Life in a Day", for a good reason. He even kicked out his own parents for being old, but so politely they did not take offense to it. Despite his muscular physique, he is somewhat of a coward, as shown in A Life in a Day. He goes to a gym. He wears a blue or black Speedo on the beach. When he is not his Speedo, he wears his green shorts.
Antagonistic Side
While Larry is strong, polite and friends with SpongeBob, he is sometimes a little full of himself. This is seen when he completely ignores the Flying Dutchman, instead ranting about his body. There is also a part of the song in "Ripped Pants (song)" when the lyrics were "when big Larry came 'round just to put him down". Earlier in the episode he also acknowledged SpongeBob as something of an underling, similar to Squidward. However, Larry has grown into a good friend of SpongeBob.
He can also be very extreme in sports sometimes, and when Patrick and SpongeBob landed in Ripper's Reef, Larry got very angry at SpongeBob.