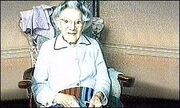 Lucy Jane Askew (b. September 8, 1883 – d. December 9, 1997) was an English supercentenarian and the oldest person in Europe at the time of her death at the age of 114 years and 92 days. Askew was born and died in Loughton, Essex. She was born to Arthur George Askew and Susan Elizabeth Askew née Ellis, prosperous landowners. Lucy had five other siblings, all of whom she outlived, although three of them also lived past 100. Askew never married and was a devout Christian. Askew moved into a nursing home when she was 106 and survived a leg operation at 108. She was in good health until shortly before her death when she died peacefully in her sleep. She attributed her longevity to a modest lifestyle. Askew was the last person documented to have been born in 1883.
Community content is available under
CC-BY-SA
unless otherwise noted.