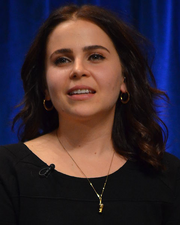 Mae Margaret Whitman (born June 9, 1988)[1] is an American actress. She is known for her role as Ann Veal in the TV series Arrested Development, her role as Amber on the TV series Parenthood, her role as Roxy Richter in Scott Pilgrim vs. the World, and for her voice work as Katara in the animated television series Avatar: The Last Airbender, Rose/Huntsgirl in American Dragon: Jake Long, April O'Neil in the 2012 iteration of Teenage Mutant Ninja Turtles and Tinker Bell in the Tinker Bell movies. Her first major studio role was as the President's daughter in the 1996 film Independence Day. She was also in the 2012 film, The Perks of Being a Wallflower as Mary-Elizabeth.
Personal life
Whitman was born in Los Angeles, California. She is the only child of Pat Musick, a voice artist, and Jeff Whitman, a personal manager and set construction co-ordinator.[1] Whitman started her career with a voice over for a Tyson Chicken commercial at the age of three.[2] During this time, Whitman attended Ribét Academy, a private preparatory school, in L.A.
Career
In 1994, at the age of six, Whitman made her film debut, acting alongside Meg Ryan in When a Man Loves a Woman (1994), playing Ryan's youngest daughter, Casey.[3]
In the movie Independence Day (1996), Whitman played the President's daughter;[4] she also played George Clooney's character's daughter Maggie in One Fine Day[5] (1996) and Sandra Bullock's character's daughter Bernice in Hope Floats (1998).[6]
In 1996, Whitman guest starred in the episode "The One Where Rachel Quits" of the sitcom Friends.[7]
During several guest appearances from 1998 until 2001, Whitman played the role of Chloe Madison on JAG. Chloe was Sarah 'Mac' Mackenzie's (Catherine Bell) Little Sister, through the Big Sister, Little Sister program. In 2001 and 2002, Whitman starred in the Fox Family series State of Grace.[citation needed]
Whitman was the voice of Navajo Wynonna "Winnie" Whitefeather for Focus on the Family's The Last Chance Detectives audio cases (2004).[citation needed]
Whitman appeared in the 2006 series Thief for FX Networks, playing the stepdaughter of Nick Atwater (Andre Braugher). She was also featured in several video games, playing the role of Yuffie Kisaragi in the Square-Enix/Disney video game Kingdom Hearts II as well as an appearance in the third-person shooter role-playing video game Dirge of Cerberus -Final Fantasy VII-.[citation needed]
Whitman made several high profile guest appearances in 2006 and 2007, including a stint on ABC's Grey's Anatomy as Heather. She also appeared on Desperate Housewives as an unscrupulous friend of Julie.[citation needed]
Whitman was initially cast in the 2007 series remake of The Bionic Woman, playing the deaf younger sister of the title character. On June 27, 2007, TV Guide reported that Whitman was being replaced in the role of Jaime's sister, and Lucy Hale was cast as Whitman's replacement the following July.[8] An NBC spokesperson confirmed this, stating, "The decision was purely creatively driven. It is very common to change storylines, characters, actors after the initial pilot is shot." The sister character's hearing was restored after this recasting at the request of an NBC executive.[9]She also appeared in the season nine episode "Streetwise" of Law and Order: Special Victims Unit, as an on-the-street-mother who adopts street children forming a homeless family.[citation needed]
Whitman played the voice of Katara of the Water Tribe in the animated show Avatar: The Last Airbender, and previously Rose in American Dragon: Jake Long. She has appeared most recently in the HBO series In Treatment as Rosie.[citation needed]
She is also Cynder in The Legend of Spyro: The Eternal Night.[citation needed]
As part of a deal to promote the Disney production of Tinker Bell, at 0100GMT on 26 October 2008, the UK's speaking clock started to use her voice.[10]
Whitman is currently costarring in NBC's version of the Ron Howard classic Parenthood. She plays Amber Holt, "a rebellious and willful teen whose only interest at present is her wannabe rock star boyfriend".[11]
Whitman played evil ex Roxy Richter in Edgar Wright's Scott Pilgrim vs. the World, a film adaptation of the Bryan Lee O'Malley indie comic series Scott Pilgrim. The film starred her former Arrested Development co-star, Michael Cera, in the title role.
Whitman appeared on Family Guy in 2010, and had a large role in the 2012 film The Perks of Being a Wallflower, opposite Logan Lerman, Emma Watson, and Ezra Miller.
Music
Whitman has recorded "I Heard The Bells On Christmas Day" and "You Make Christmas Feel So Good" for School's Out! Christmas.
Whitman has also sung guest vocals on a number of tracks from indie-punk band Fake Problems newest album Real Ghosts Caught on Tape.[12]
Whitman has also been featured on her show Parenthood in the song "Gardenia" on the season 2 episode "The Booth Job" along with current boyfriend, Landon Pigg.
Filmography
Year
Title
Role
Notes
1994
When a Man Loves a Woman
Casey Green
1995
Bye Bye Love
Michele
1995
Degree of Guilt
Elena Argos
Television film
1995
Naomi & Wynonna: Love Can Build a Bridge
Young Ashley Judd
Television film
1996
After Jimmy
Rosie
Television film
1996
Duckman: Private Dick/Family Man
Baby Rose
Voice role, Episode: "Sperms of Endearment"
1996
Independence Day
Patricia Whitmore
aka ID4
1996
Early Edition
Amanda Bailey
Episode: "The Choice"
1996
Friends
Sarah Tuttle
Episode: "The One Where Rachel Quits"
1996
One Fine Day
Maggie Taylor
1996
The Cartoon Cartoon Show
Little Suzy
Episode: "Johnny Bravo and the Amazon Women"
1996–99
Chicago Hope
Sara Wilmette
17 episodes
1997
Superman: The Animated Series
Young Lois Lane
Episode: "Monkey Fun"
1997
Merry Christmas, George Bailey
Zuzu Bailey
Television film
1997–2004
Johnny Bravo
Little Suzy
36 episodes
1998
The Gingerbread Man
Libby Magruder
1998
Hope Floats
Bernice Pruitt
1998–2001
JAG
Chloe Madison
8 episodes
1999
Judging Amy
Darcy Mitchell
Episode: "Last Tango in Hartford"
1999
Providence
Frances Carlyle
2 episodes
1999
Hallmark Hall of Fame
Alanna 'Lani' Thompson
Episode: "A Season for Miracles"
1999
Jingle Bells
Beth
Television film, voice role
1999
Invisible Child
Rebecca 'Doc' Beeman
Television film
1999
Mickey's Once Upon a Christmas
Girl
Straight-to-video, voice role
2000
Teacher's Pet
Leslie Dunkling
unknown episodes
2000
The Wild Thornberrys
Antoinette
Episode: "Luck Be an Aye-Aye", voice role
2001
An American Rhapsody
Maria (at 10)
2001
Max Steel
Jo
Episode: "The Return", voice role
2001
Jackie Chan Adventures
unknown
Episode: "Scouts Honor", voice role
2001–02
State of Grace
Emma Grace McKee
40 episodes
2002
The Wild Thornberrys Movie
Schoolgirl
Voice role
2002
Presidio Med
Tory Redding
Episode: "Do No Harm"
2002
The Zeta Project
Amy
Episode: "The River Rising"
2002–04
Fillmore!
Robin
7 episodes, voice role
2003
The Jungle Book 2
Shanti
Voice role
2004
Teacher's Pet
Leslie
Voice role
2004
Cold Case
Eve Kendall
Episode: "Lover's Lane"
2004
EverQuest II
Lilly Ironforge/Thana Rumblehoof
Video game, voice role
2004
CSI: Crime Scene Investigation
Glynnis Carson
Episode: "No Humans Involved"
2004
Century City
Erin Pace
Episode: "Without a Tracer"
2004–06, 2013
Arrested Development
Ann Veal
12 episodes
2005
Going Shopping
Coco
2005
The Happy Elf
Molly
Straight-to-video, voice role
2005
Kingdom Hearts II
Yuffie Kisaragi
Video game, voice role
2005–07
American Dragon: Jake Long
Rose/Huntsgirl
19 episodes, voice role
2005–08
Avatar: The Last Airbender
Katara
59 episodes, voice role
2006
The Bondage
Angelica
2006
Cartoon Network Racing
Little Suzy
Video game, voice role
2006
Dirge of Cerberus: Final Fantasy VII
Yuffie Kisaragi
Video game, voice role
2006
Thief
Tammi Deveraux
6 episodes
2006
Love's Abiding Joy
Colette Doros
2006
Avatar: The Last Airbender
Katara
Video game, voice role
2006
Desperate Housewives
Sarah
Episode: "Nice She Ain't"
2006
Phil of the Future
Crying Girl
Episode: "Stuck in the Meddle with You"
2006
Jesse Stone: Death in Paradise
Emily Bishop
Television film
2007
Justice
Jenny Marshall
Episode: "False Confession"
2007
Grey's Anatomy
Heather Douglas
2 episodes
2007
The Modifyers
Agent Xero/Lacey Shadows
Unaired pilot
2007
Lost in the Dark
Amy Tolliver
Television film
2007
Bionic Woman
Becca Sommers
Episode: "Unaired Pilot"
2007
The Legend of Spyro: The Eternal Night
Cynder
Video game, voice role
2007
Boogeyman 2
Alison
Straight-to-video
2007
Ghost Whisperer
Rachel Fordham
Episode: "Don't Try This at Home"
2007
ER
Heather
Episode: "The Test"
2008
Law & Order: Special Victims Unit
Cassidy Cornell/Helen Braidwell
Episode: "Streetwise"
2008
Tinker Bell
Tinker Bell
Straight-to-video, voice role
2008
Nights in Rodanthe
Amanda Willis
2008
Good Behavior
Roxy West
Television film
2008–10
In Treatment
Rosie Weston
4 episodes
2008–present
Family Guy
various characters
7 episodes, voice role
2009
Spring Breakdown
Lydia
2009
Acceptance
Taylor Rockefeller
Television film
2009
Criminal Minds
Julie
Episode: "Cradle to Grave"
2009
Tinker Bell and the Lost Treasure
Tinker Bell
Voice role
2009–present
The Cleveland Show
Softball Captain
2 episode, voice role
2010–present
Parenthood
Amber Holt
series regular
2010
Barry Munday
Candice
2010
Firedog
Sara
Voice role
2010
Scott Pilgrim vs. the World
Roxy Richter
2010
Scott Pilgrim vs. the Animation
Lisa Miller
Voice role
2010
Batman: The Brave and the Bold
Batgirl
2 episodes, voice role
2010
Tinker Bell and the Great Fairy Rescue
Tinker Bell
Voice role
2010
Jesse Stone: No Remorse
Emily Bishop
Television film
2011
Tinker Bell and the Pixie Hollow Games
Tinker Bell
Voice role
2011
The Factory
Abby Fletcher
2012
The Perks of Being a Wallflower
Mary Elizabeth
2012
Robot Chicken
Wilma Flintstone, Lady Gaga
1 episode, voice role
2012
Secret of the Wings
Tinker Bell
Voice role
2012
Teenage Mutant Ninja Turtles
April O'Neil
Voice role
2012
Young Justice: Invasion
Cassie Sandsmark/Wonder Girl[13]
Voice role
2012
Weeds
Tula
Season 8 episode 3
2012
Dragons: Riders of Berk
Heather
Season 1 Episode 10+11 (Might Be reoccurring)
2013
Jake And The Neverland Pirates
TinkerBell
Season 3==[edit]References==

^ a b "Mae Whitman". TV Guide. Retrieved 2009-09-23.
^ "Mae Whitman's biography". Retrieved March 31, 2013.
^ "Full cast and crew for When a Man Loves a Woman". IMDb. Retrieved March 31, 2013.
^ "Full cast and crew for the movie Independence Day". IMDb. Retrieved March 31, 2013.
^ "Full cast and crew for the movie One Fine Day". IMDb. Retrieved March 31, 2013.
^ "Full cast and crew for the movie Hope Floats". IMDb. Retrieved March 31, 2013.
^ "Full cast and crew for The One Where Rachel Quits". IMDb.
^ Ausiello, Michael (2007-06-27). "Exclusive! A Bionic Recast!". TV Guide. Archived from the original on 2008-03-15. Retrieved 2007-06-27.
^ "Exclusive: A Bionic Recast!". Ausiello Report. TVGuide.com.
^ "Tinker Bell voices speaking clock". BBC News. 2008-10-24. Retrieved 2010-03-27.
^ nbc.com

[edit]External links