Mark Eaton
(born January 24, 1957, in Inglewood, California) is a retired American professional basketball player who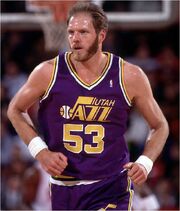 was a member of the NBA's Utah Jazz from 1982 to 1994. He was famous for his giant frame (7-foot-4, 290 pounds) and his strong defense.
Mark Eaton grew up in Southern California. Despite his height, as a youth he was more interested in playing water polo than basketball. After graduating from Westminster High School, Eaton attended the Arizona Automotive Institute and graduated as a service technician. He worked as an auto mechanic for about three years, and was eventually discovered by Tom Lubin while repairing cars. Lubin was an assistant basketball coach at Cypress Junior College, and his encouragement led Eaton to enroll at Cypress and try out for the basketball team. Eaton developed into a solid junior college player. He averaged 14.3 points game in two seasons at Cypress, and led the school to the California State Title as a sophomore.
Eaton transferred to University of California, Los Angeles (UCLA) in 1980, but did not see much action in his two seasons with the Bruins. In his senior season, he played just 42 total minutes, averaging 1.3 points and 2.0 rebounds in 11 games.
Because of his lack of playing time at UCLA, few NBA teams had interest in Eaton after he finished his college career. However, the Utah Jazz saw him as a potentially-dominant defender and selected him in the fourth round (72nd player overall) of the 1982 NBA Draft. Utah coach Frank Layden would later explain his choice by quoting Red Auerbach's old axiom, "you can't teach height". In his rookie season, Eaton made an immediate impact. He replaced Danny Schayes as Utah's starting center early in the year, and finished the season with 275 blocked shots (a franchise record) in 81 games. His 3.40 blocks per game ranked third in the NBA, behind Atlanta's Wayne "Tree" Rollins and San Diego's Bill Walton.
Eaton continued to improve in his second season with the Jazz. In 82 games, he grabbed a team-leading 595 rebounds and blocked 351 shots (breaking his own franchise record). His 4.28 blocks per game led the NBA, well ahead of Rollins (who finished second with 3.60 blocks per game). Eaton's strong defense helped the Jazz make their first-ever playoff appearance.
Eaton's third season (1984-85) was spectacular. He blocked 456 shots, shattering the NBA record for most blocked shots in a single season (Elmore Smith blocked 393 shots for the Los Angeles Lakers in the 1973-74 season). Eaton averaged 5.56 blocks per game, leading the league by a wide margin (Houston's Hakeem Olajuwon finished second with 2.68 blocks per game). In addition, Eaton averaged 11.3 rebounds per game, ranking fifth in the league in that category. For his efforts, he was named to the NBA All-Defensive First Team and was honored as the NBA's Defensive Player of the Year.
Although he was not a significant offensive contributor, the Jazz relied heavily on Eaton for his shot-blocking, rebounding, and occasional "tippy toe" dunks. With the emergence of superstars Karl Malone and John Stockton, the Jazz became one of the best teams in the NBA. Eaton's stifling defense was a major factor in Utah's success. He continued to rank among NBA leaders in blocked shots, leading the league in 1986-87 and 1987-88. In 1988-89, he averaged 10.3 rebounds per game (seventh in the NBA) and 3.84 blocks per game. He was named NBA Defensive Player of the Year for the second time in his career, and was also named to the NBA All-Defensive First Team (for the third time in his career). In addition, he was chosen to play in the 1989 NBA All-Star Game, joining teammates Malone and Stockton on the Western Conference team.
In his last few seasons with the Jazz, Eaton was slowed by knee and back injuries. He remained an imposing defensive presence, but his rebounding and shot-blocking abilities slowly declined. In his last season (1992-93), he played in only 64 games, averaging just 17.3 minutes per game.
His entire career was spent with the Utah Jazz. In 875 games, he scored 5,216 points, grabbed 6,939 rebounds, and blocked 3,064 shots. At the time of his retirement, he ranked second all-time in league history in total blocked shots (behind Kareem Abdul-Jabbar's career total of 3,189). He is currently the NBA's all-time leader with a career average of 3.50 blocks per game.
To honor his contributions to the team, the Utah Jazz retired Eaton's jersey number 53 during the 1995-96 regular season.
Since his retirement, Eaton has worked for KJZZ-TV Channel 14 in Salt Lake City, providing color commentary and analysis for television broadcasts of Utah Jazz and University of Utah basketball games. Eaton is a partner in a Salt Lake City-area restaurant named Tuscany.
He has served as president of the NBA Retired Players Association and is currently a board member.
He founded and served as chairman of the Mark Eaton Standing Tall for Youth organization, which provided sports and outdoor activities for at-risk children in Utah. He is a motivational speaker.
In 2009 a golfer at his Mark Eaton Celebrity Golf Classic hit a hole-in-one to win $1 million.
Community content is available under
CC-BY-SA
unless otherwise noted.