We're Getting Mutants in the MCU - The Loop
Play Sound
Notice: this page uses content stolen from Wikipedia
Uh-oh! It looks like this article is Stolen!
this page uses content stolen from Wikipedia.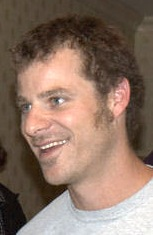 Matthew Richard "Matt" Stone (born May 26, 1971) is an American actor, voice actor, animator, screenwriter, director, producer and musician, best known for being the co-creator of South Park along with his creative partner and best friend, Trey Parker.
Stone and Parker launched their largely collaborative careers in 1992, making a holiday short titled Jesus vs. Frosty. Their first success came fromAlferd Packer: The Musical, subsequently distributed as Cannibal! The Musical. From there he made another short title Jesus vs. Santa, leading him and college friend Parker to create South Park, which has been airing for over fifteen years. He has four Emmy Awards for his role in South Park, winning for both "Outstanding Programming More Than One Hour" and "Outstanding Programming Less Than One Hour".
Early life
Stone was born in Houston, Texas, to Gerald Whitney Stone, Jr. (1941-2010), an economics professor and textbook author, and Sheila Lois Belasco (who share the first names of South Park character Kyle Broflovski's parents). Stone's mother is Jewish and his father was of Irish descent.[3] Stone and his younger sister, Rachel were raised in Littleton, Colorado, a suburb of Denver, Colorado, where both attended Heritage High School. He graduated from the University of Colorado at Boulder, and was their first student to double major in film and mathematics.[4]
Career
South Park
In 1992, Stone and Parker created the short film Jesus vs. Frosty.[5] It included four boys, two resembling Stan Marsh and Kyle Broflovski, one called Kenny who looked like Cartman, and a fourth unnamed boy who looked like Kenny. Both Jesus and Cannibal! The Musical were made while they were students at the University of Colorado film school, studying under both Stan Brakhage and Jerry Aronson. After the duo released Cannibal! The Musical, they were asked to make another animated short.[6][7] They came down to two ideas: one a sequel to Jesus vs. Frosty, and one about a character that would later be recurring in South Park, Mr. Hankey.[8] They chose to write about the four boys, and their decision ultimately opened the door for them to present a show (South Park) to Comedy Central.[9] Stone and Parker produced 13 episodes for season 1.[10] The video landed in the hands of Comedy Central's Doug Herzog. "It literally was the funniest thing I'd ever seen," he said in a 2006 interview. "We said, 'Develop a show.' So they went off and developed the show."[11] Stone and Parker produced 13 episodes for season 1. South Park is currently still under contract to produce new episodes through 2016.[12]
In 1999, Stone and Parker made South Park: Bigger, Longer & Uncut, which gave the series prominence.[13] The film's music was nominated for an Academy Award, but lost to "You'll Be In My Heart" from Tarzan.
As of 2007, Parker is credited with directing and writing the vast majority of South Park episodes, and voicing most of the regular and guest characters, leading fans to question Stone's involvement in the creative process. According to a 2007 Maclean's article by Jaime J. Weinman, however, Stone handles the business side of the series as its production coordinator, responsible for assembling its various elements, and making sure they arrive on time and under budget. Stone commented to IGN, "I am not a good director, I know that. I am not a very good actor either, and I know it, but it is good to know that." As Parker is "self-admittedly anti-social" and non-confrontational, Stone is the one who handles conflicts with the network over issues of censorship and contracts, grants interviews with the media in the wake of controversial episodes, and acts as a go-between between Parker and others when Parker says provocative things. Weinman compared Parker and Stone's relationship to that of Larry David and Jerry Seinfeld, in which the diplomatic Seinfeld would defuse tension created by more volatile David, and suggested that Parker would not be able to get away with saying offensive things without Stone.[14]
Other projects
In 1997, they also released Orgazmo, a movie rated NC-17. In 1998, they starred in (but did not write or direct) BASEketball, another feature film, while being renewed for a second season ofSouth Park. In 2001, the duo announced they would do 39 shorts between the lengths of 2 and 5 minutes.[15] Although originally thought to be South Park-related, they decided they would do something different. The result was the shorts 'Princess'.[16] The content was so extreme that it was cancelled after two shows aired.[17] In 2001, they also created That's My Bush!, another television series. Despite great reviews, the show was cancelled after one season for its cost, reportedly $700,000 per episode.[18]
In 2004, they made a film titled Team America: World Police[19][20] which many critics reviewed positively.[21] In August 2007, South Park was renewed for three more seasons, 13, 14 and 15, each of them containing 14 episodes.[22]
Stone is also a member of the band DVDA with Parker, for which he plays bass and drums. DVDA's songs have appeared in many of the duo's productions, including Orgazmo, BASEketball,South Park: Bigger, Longer & Uncut, and Team America: World Police.[23][24][25][26]
On September 28, 2007, Parker and Stone acquired the US rights to the Canadian-made Kenny vs. Spenny, which premiered November 14, 2007 on Comedy Central with ten old and new episodes.[27]
Stone and Parker collaborated with Avenue Q composer Robert Lopez on a musical about Mormons titled The Book of Mormon, which stars Andrew Rannells, Josh Gad, Nikki M. James and Rory O'Malley. It opened at the Eugene O'Neill Theatre on March 24, 2011, and is being produced by Scott Rudin and Anne Garefino. It is directed by Parker and Casey Nicholaw, and choreographed by Nicholaw.[28]
In April 2010, Stone and Parker received a "warning" for allegedly representing the Muslim prophet Muhammad in a bear costume: "We have to warn Matt and Trey that what they are doing is stupid and they will probably wind up like Dutch director Theo van Gogh for airing this show."[29] It was revealed in the next episode that the person in the bear costume was actually Santa Clausand not Muhammad; the "real" Muhammad was supposed to appear as well, but Comedy Central had him censored out against Stone and Parker's wishes.
Stone claimed that he and Parker were on acid at the time of the 72nd Academy Awards in 2000, where they wore dresses popularized by Jennifer Lopez and Gwyneth Paltrow at previous awards shows.[30]
On January 14, 2013, Stone and Parker announced that they would be starting a film production company called Important Studios. Inspired by the production work of Lucasfilm and DreamWorks, Stone and Parker considered founding the studio for approximately two years before committing. The initial financial assets of the studio are valued at $300 million, with the majority of the money originating from South Park, The Book of Mormon, while $60 million is from an investment from Joseph Ravitch of the Raine Group, giving him a 20 percent minority stock.[31]
Personal life
In 2008, Stone married Angela Howard. He has one son.[32][33]
Regarding religion, Stone considers himself "ethnically Jewish", on account of his mother's descent, but grew up agnostic, and has no other adherence to the religion,[3][33][34] identifying himself as an atheist.[35][36]
Filmography
Year
Production
Role
Other notes
1992
Jesus vs. Frosty
Director, Actor, Producer, Writer
1994
Cannibal! The Musical
Actor, Producer
1995
Jesus vs. Santa
Director, Actor, Producer, Writer
Your Studio and You
Actor, Writer
Cameo
1997
South Park (Television series; 1997–present)
Co-creator, Voice actor, Writer, Director, Executive producer
Orgazmo
Actor, Writer, Producer
Cameo
1998
BASEketball
Actor
1999
South Park: Bigger, Longer & Uncut
Voice actor, Writer, Producer
Terror Firmer
Actor
2000
Even If You Don't
Director
Music video
2001
Princess
Director, Writer, Voice actor, Producer
Animation shorts
That's My Bush! (Television series; 2001)
Co-creator, Writer, Executive producer
Cameo
2003
Bowling for Columbine
Interviewee
2004
Team America: World Police
Writer, Voice actor, Producer
2006
This Film Is Not Yet Rated
Interviewee
2007
Electric Apricot: Quest for Festeroo
Actor
2007
Kenny vs. Spenny
Executive Producer
2010
Rush: Beyond the Lighted Stage
Himself
Voices on South Park