Notice: this page uses content stolen from Wikipedia
Uh-oh! It looks like this article is Stolen!
this page uses content stolen from Wikipedia.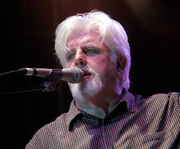 Michael McDonald (born February 12, 1952) is an American singer and songwriter. McDonald is known for a soulful baritone[1] singing style. He began his career singing back-up vocals with Steely Dan. He became a member of The Doobie Brothers from 1976 to 1982, a period which resulted in several hit songs for the band. He has won five Grammy Awards.
Early years
Born in St. Louis, Missouri, McDonald played in several local bands while attending McCluer High School in his hometown of Ferguson, Missouri. He was discovered while playing with a group called Blue and consequently moved to Los Angeles in 1970.
Steely Dan
Michael McDonald became one of the many in-studio adjunct members of the group Steely Dan, providing back-up vocals on tracks for 1975's Katy Lied. He would return on subsequent Steely Dan recordings including 1976's The Royal Scam and 1977's Aja. He also played keyboards on some Steely Dan tracks. McDonald continued to do background vocals for Steely Dan through their 1980 release, Gaucho. He was part of Steely Dan's last touring band in the 1970s, playing keyboards and singing backup.
Doobie Brothers
McDonald was recruited by the band The Doobie Brothers in April 1975 when lead singer Tom Johnston became ill during a national tour. His time with the band proved so successful that they decided to retain him as a full-time member.
As a member of the Doobie Brothers he recorded some of his best-known songs such as "Real Love", "Takin' It to the Streets", "Little Darling", "It Keeps You Runnin'", "Minute by Minute" and "What a Fool Believes" (which became a number one single in the U.S. and earned him a 1980 Grammy Award for Song of the Year along with co-writer Kenny Loggins). At the same time he appeared as a session singer and piano player for artists such as Christopher Cross, Stephen Bishop, Jack Jones, Bonnie Raitt, the rock band Toto and Kenny Loggins.
Solo career
After the Doobies' first farewell tour, McDonald compiled some of his earlier songs in the 1982 release That Was Then: The Early Yearswhich has never been issued on CD. His first solo album, If That's What It Takes, also released in 1982, featured the hits "I Keep Forgettin' (Every Time You're Near)," a duet with his sisters Kathy and Maureen, and "I Gotta Try," a song co-written with Kenny Loggins, who recorded it as well.
McDonald co-wrote Van Halen's Top 20 hit "I'll Wait", from their landmark 1984 album. McDonald co-wrote "You Belong to Me" with Carly Simon.
"Yah Mo B There", a duet with James Ingram, won the 1985 Grammy for Best R&B Performance by a Duo or Group with Vocals.[2] He followed that up with "On My Own", a duet with Patti LaBelle, which reached #1 on the U.S. charts in 1986. Also in 1987 McDonald did a featured collaboration with American gospel group The Winans from their Decisions album: "Love has no color". That same year he performed the single "Sweet Freedom" that appeared on that summer's hit movie Running Scared soundtrack.
McDonald's 1990 album Take It to Heart featured a minor hit with the title song, co-written with Diane Warren. The following year he joined the New York Rock and Soul Revue, put together by Steely Dan's Donald Fagen. 1991's "Ever Changing Times" with Aretha Franklin, a duet on Arista Records, had moderate success and radio play (peaking at #19 on US R&B charts). In 2003, he earned two Grammy nominations for his album Motown, a tribute to the Motown sound.
In 2008 McDonald released his SoulSpeak album which (in addition to including three new songs penned by McDonald) featured his interpretations of 11 carefully selected soul-inspired songs, ranging from universal evergreens like Dionne Warwick's "Walk On By" and Stevie Wonder's "Living For The City" to lesser-known numbers like Van Morrison's atmospheric "Into The Mystic" and the late 60s Chicago soul of Tyrone Davis' "Baby Can I Change My Mind".[3]
McDonald has reunited as a guest performer with the Doobies several times since their initial dissolution in 1982 and joined Steely Dan on their 2006 summer tour, both as the opening act and as part of the band.[4]
In 1999, McDonald recorded the song "Eyes of a Child" for the South Park: Bigger, Longer & Uncut. It was also used at the ending credits for the movie.
2000-present
In 2000, McDonald, along with partners Chris Pelonis and actor Jeff Bridges, founded the independent recording label Ramp Records.[5] In 2003, McDonald received a star on the St. Louis Walk of Fame.[6] McDonald recorded a duet with Ray Charles on Charles' 2004 Genius Loves Company. In 2007, McDonald helped judge the 6th annual Independent Music Awards.[7] The following year, in 2008, McDonald performed "America the Beautiful" at the Democratic National Convention in Denver, Colorado.
In 2009, McDonald, along with the West Angeles COGIC Mass Choir, released the song "Storm Before the Calm" on the compilation album Oh Happy Day.[8] McDonald also contributed an alternate lead vocal track for "While You Wait for the Others", a single by the indie rock band Grizzly Bear, which released as a 7" single.[9]
In December 2009, McDonald donated his performance to Keep the Beat in Santa Barbara, Calif., where he played to a maximum capacity crowd at the newly renovated Granada Theater. Harry Rabin, producer & head of Keep the Beat, an initiative of the Santa Barbara Education Foundation, produced the show, including two Video productions and worked with student chorale groups from Primary and secondary schools as well as a brass section so they could perform in the show with Michael and his band.[10] [11] On hand for the performance were Dave Mason, Kenny Loggins, Jackson Browne, David Crosby, members of the band Venice and the event was hosted by Harry Rabin and emceed by Jay Thomas.
In 2009, Michael McDonald appeared on the NBC sitcom 30 Rock as one of the benefit singers in the season finale episode "Kidney Now!".[12]
Singer Michael McDonald performs the national anthem before the Tostitos Fiesta Bowl between the Boise State Broncos and TCU Horned Frogs at the University of Phoenix Stadium on January 4, 2010 in Glendale, Arizona.[13]
Michael McDonald sang "Takin' It to the Streets" on the final episode of American Idol, season nine, in 2010.
In 2010, Michael McDonald released 'The Voice of Michael McDonald', a compilation of The Doobie Brothers and Michael McDonald hits, and duets with various artists. The album includes yet another re-recording of Arron Neville's 1966 song 'Tell It Like It Is', done in the style of Michael McDonald.
Michael also sang the United States National Anthem at game one of the 2011 NBA Finals.
Recently Michael McDonald has contributed backing vocals for the synthpop band Holy Ghost! self-titled album on their song "Some Children."
In the summer of 2010, Michael McDonald began a tour with Donald Fagen and Boz Scaggs . They are performing together as one band billed as The Dukes of September Rhythm Revue. The show includes classic rock, soul/R&B songs by various artists and personal repertoire songs from all three headliners.
McDonald re-teamed with the Doobie Brothers for the track "Don't Say Goodbye" on the band's album World Gone Crazy.
Discography
Main article: Michael McDonald discography
Band members
Bernie Chiaravalle, guitar; Vince Denham, saxophone; Lanice Morrison, bass; Yvette "Baby Girl" Preyer; drums, keyboards; Pat Coil, Tambourine; Keith "Arthur" Merritt
Awards
Grammys
Wins
1979: Record of the Year for "What a Fool Believes" (The Doobie Brothers)
1979: Song of the Year for "What a Fool Believes" (with Kenny Loggins)
1979: Best Pop Vocal Performance by a Duo, Group or Chorus for "Minute by Minute" (The Doobie Brothers)
1979: Best Arrangement Accompanying Vocals for "What a Fool Believes" (The Doobie Brothers)
1984: Best R&B Performance by a Duo or Group with Vocal for "Yah Mo B There" (with James Ingram)
Nominations
1979: Album of the Year for Minute By Minute (The Doobie Brothers)
2007: Album of the Year (as featured artist) for These Days (Vince Gill)
In popular culture
A fictionalized version of McDonald (portrayed by actor JD Ryznar) appeared in the online Channel 101 video series Yacht Rock. McDonald was parodied in a Second City Television skit in the early 1980s, where he is portrayed by Rick Moranis.[14]
In the 2005 comedy The 40-Year-Old Virgin, the manager of the electronics store has a fondness for McDonald and insists on repeatedly playing one of his live concerts on the big-screen televisions, driving her employees crazy.[15]
In the Family Guy episode, Padre de Familia, McDonald is hired by Peter Griffin as a backup singer during a night of patrolling Quahog, but gets on Peter's nerves by the end of the episode.[citation needed]
In The Cleveland Show, he is Cleveland's neighbor on Grace Street and can be seen in the episodes "Skip Day" and "Mama Drama".[citation needed]
On March 13, 2013, he appeared in a segment on Late Night with Jimmy Fallon. McDonald, Fallon, and Justin Timberlake sang "Row, Row, Row Your Boat" in the round, with Fallon and Timberlake sporting McDonald's trademark white hair and emulating his distinct vocal style.[16]