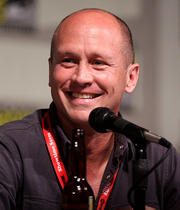 This article is about the cartoonist. For the billiards player, see Michael Judge. For the Roman Catholic priest, see Mychal Judge.
Michael Craig "Mike" Judge (b. October 17, 1962)[1] is an American animator, director, screenwriter, voice actor, actor, producer, and musician. He is best known as the creator and star of the animated television series Beavis and Butt-head (1993–1997, 2011–present), King of the Hill (1997–2010), and The Goode Family (2009).
He also wrote, directed and in some instances produced the films Beavis and Butt-head Do America (1996), Office Space (1999), Idiocracy (2006) andExtract (2009). Judge is also known for his role as Donnagon Giggles in the Spy Kids movie franchise.
Early life and education
Born in Guayaquil,[2] Ecuador,[1] where his father worked for a nonprofit organization promoting agricultural development, Judge was raised from age 7 in Albuquerque, New Mexico, United States, the second of three children of archaeologist Jim Judge and librarian Margaret Blue. Judge attended St. Pius X High School before graduating with a Bachelor of Science in physics in 1986 from the University of California, San Diego.[3]
Career
Judge spent time at a defense subcontractor working on the F/A-18 aircraft, writing software for the systems on board aircraft carriers that handled the aircraft.
In the early 1990s Judge was playing blues bass with Doyle Bramhall and was a part of Anson Funderburgh's band for two years playing on 1990 Black Top Records release "Rack 'Em Up".[4]
Animation, film and TV work
In 1991, Judge's short film "Office Space" (also known as the Milton series of shorts) was acquired by Comedy Central, following a Dallas animation festival.
In 1992, he developed Frog Baseball, a short film featuring the characters Beavis and Butt-head, to be featured on Liquid Television, a 1990s animation showcase that appeared on MTV. The short led to the creation of the Beavis and Butt-head series on MTV, in which Judge voiced both title characters as well as the majority of supporting characters. Beavis and Butt-head visited Wilson Middle School and attended Highland High School in their series, which are the names of schools in Albuquerque, Judge's hometown. The series ran from 1993 to 1997 and is currently running on MTV (2011- ) and also spawned the feature-length film, Beavis and Butt-head Do America (1996).
In 1997, Judge created King of the Hill for the Fox Network. Many of the show's characters were based on people he had known while living in Texas. Judge voiced characters Hank Hill and Jeff Boomhauer. The show centers on the Hills, a middle-class Methodist family in the small suburban town of Arlen, Texas. It attempts to retain a naturalistic approach, seeking humor in the conventional and mundane aspects of everyday life while dealing with issues comically. The series ran from January 12, 1997 to May 6, 2010 with a total of 259 episodes aired. The show is the third longest running prime time animated series behind The Simpsons and South Park.
In 1999, Judge had a voice cameo in South Park: Bigger, Longer and Uncut, the feature-length film adaptation of the popular Comedy Central series; he voiced Kenny McCormick when he was unhooded towards the end of the film. That same year, he wrote and directed the live-action comedy film Office Space, which was based in part on the Milton series of cartoons he had created forNBC's Saturday Night Live. In the film, he made a cameo appearance as Stan (complete with hairpiece and fake mustache), the manager of Chotchkie's, a fictionalized parody of chain restaurants like Applebee's and TGI Friday's. As of mid-2006, Office Space had sold nearly six million home-video copies.
Since fall 2003, Judge and fellow animator Don Hertzfeldt have run an animation festival, "The Animation Show". "The Animation Show" tours the country every year, screening animated shorts.
In 2005, Mike Judge was presented with the Austin Film Festival's Outstanding Television Writer Award by Johnny Hardwick.
Judge's film, Idiocracy (2006), a dystopian comedy starring Luke Wilson and Maya Rudolph, was given a limited release theatrically by 20th Century Fox in September 2006, two years after production. The film was released without a trailer or substantial marketing campaign.[5] In the U.S., the film was released to DVD in January 2007 and later aired on premium-television, multiplexchannels: Cinemax in September 2007 and HBO in January 2008. Since then, it has gained a cult following.[6]
He has made cameo appearances in numerous films, including the comedy Jackass Number Two (2006), in which he can be seen during the closing credits. An extended version can be seen inJackass 2.5 (2007) which was a direct-to-video release. Judge also created a video clip of Beavis and Butt-head ripping into Steve-O for his video Poke the Puss, where the two try imagining if they would like the video better if they were black. The clip aired as a part of Jackassworld.com: 24-Hour Takeover, a February 23, 2008 television special on MTV to coincide with the official launch of jackassworld.com.
Judge's comedy film Extract, in which he makes an uncredited appearance as Jim, a union organizer, was released on September 4, 2009.[7]
His newest animated series, The Goode Family, debuted on ABC and was canceled after one season. It was confirmed on The Goode Family Facebook page that Comedy Central had picked up the reruns of the series,[8] and was to be evaluated for a chance of being renewed for a second season. Comedy Central first aired the series on January 4, 2010. However, the series was pulled off of the schedule shortly thereafter. It was officially confirmed by the production team on The Goode Family Facebook page that the show would not continue on Comedy Central.[8] It was later announced that Judge had begun outlining new episodes of Beavis and Butt-head for MTV's revival of the show.[9]
In 2012, Judge directed the music video (animation by Titmouse) for country music group Zac Brown Band´s Wind.
In 2012, Judge announced that he is developing a sitcom for HBO called Silicon Valley, a single-camera live-action comedy, with King Of The Hill executive producers John Altschuler and Dave Krinsky. Judge will direct the pilot, which he co-wrote with Altschuler and Krinsky, which will be set in Northern California and will address the idea that "the people most qualified to succeed are the least capable of handling success." The pilot will be shot in the spring, and is being executive produced by Scott Rudin alongside Judge, Altschuler and Krinsky and 3 Arts' Michael Rotenberg and Tom Lassally.[10]
Political views
Despite his King of the Hill protagonist Hank Hill being identifiable as a conservative[11] and his The Goode Family being essentially a satire of many liberal precepts, Judge avoids discussing his political leanings. The Goode Family has been called[12] a conservative show, and it has been suggested by the conservative site Newsbusters that the show's negative reviews were a consequence of liberal institutions having a poor sense of humor.[13]
In reviewing Idiocracy, Salon stated, "Judge's gimlet eye is so ruthless that at times his politics seem to border on South Park libertarianism."[14] The libertarian Reason seems to agree, comparing King of the Hill to South Park and The Simpsons' anti-authoritarian point-of-view, though it calls the show more populist, noting the disdain King of the Hill seems to have for bureaucrats, professionals and big-box chains.[15]
Still, Judge denies having political messages in his shows, saying in an IGN interview about King of the Hill:[11]
I try to not let the show get too political. To me, it's more social than political I guess you'd say, because that's funnier. I don't really like political reference humor that much. Although I liked the episode ["Hank's Bully"] where Hank's talking to the mailman and he says, 'Why would anyone want to lick a stamp that has Bill Clinton on it?' To me that's just like more of a character thing about Hank than it is a political joke or anything. I don't want to do a bunch of stuff about the war, particularly.==Filmography==
Year
Film
Functioned as
Notes
Director
Writer
Producer
Actor
Role
1991
Office Space (Milton/Saturday Night Liveshorts)
Yes
Yes
Yes
Also did animation and music.
1991
The Honky Problem
Yes
Yes
Yes
Yes
1992
"Frog Baseball"
Yes
Yes
Yes
Yes
Beavis, Butt-head, additional characters
1992
"Peace, Love and Understanding"
Yes
Yes
Yes
Yes
Beavis, Butt-head, David van Driessen, additional characters
1993–1997, 2011-present
Beavis and Butt-head
Yes
Yes
executive
Yes
Beavis, Butt-head, David Van Driessen, Tom Anderson, Principal McVicker, Coach Buzzcut, additional characters
Also functioned as creator, character designer, creative consultant, creative supervisor and did musical theme.
1994
Airheads
Yes
Voiced Beavis and Butt-head on the radio
1994
The Head
Yes
Butt-head
The Head/The Date episode
1996
Beavis and Butt-head Do America
Yes
Yes
Yes
Beavis, Butt-head, David Van Driessen, Tom Anderson, Principal McVicker
1997
The Simpsons
Hank Hill
"Bart Star" episode.
1997-2010
King of the Hill
executive
Yes
Hank Hill, Jeff Boomhauer, additional characters
Also functioned as creator.
1997
Space Ghost Coast to Coast
Yes
Himself
1999
Office Space
Yes
Yes
Yes
Stan
1999
South Park: Bigger, Longer & Uncut
Yes
Kenny McCormick unhooded saying "goodbye"
2001
Spy Kids
Yes
Donnagon/Donnamight
2002
Serving Sara
Yes
Motel manager
2002
Spy Kids 2: The Island of Lost Dreams
Yes
Donnagon Giggles
2003
Frasier
Yes
Sexual harassment facilitator, Van
2003
Spy Kids 3-D: Game Over
Yes
Donnagon Giggles
2006
Idiocracy
Yes
Yes
Yes
Also wrote story.
2006
Jackass Number Two
Yes
Cameo
2006
Aqua Teen Hunger Force
Aliens
One episode
2007
The Animation Show
Beavis and Butt-head introduction. Judge functioned as animator.
2009
The Goode Family
executive
Yes
Gerald Goode, The Average Guy
Also functioned as creator.
2009
Extract
Yes
Yes
Yes
Yes
2010
Jackass 3D
Yes
Cameo
Beavis and Butt-head introduction (voice over)
2010, 2012 respectively
The Cleveland Show – Cleveland Live!,Das Shrimp Boot
Yes
Hank Hill
2012
The Wind
Yes
Music video (Zac Brown Band).[16]