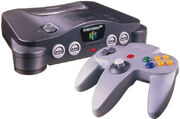 Nintendo 64 or N64 is a fifth-generation home game console released by Nintendo EAD in 1996.
About the N64
The console was released with the new graphics. The console met universal and critical acclaim, becoming the most played fifth-generation console, beating the PlayStation, although it wasn't the best-selling fifth-generation console.
The console had its reports. One report is a number of glitches being found in the games, possibly due to the new 3D graphics. Another report is game cartridges easily becoming dirty and dusty, leading Nintendo to release cleaning kits. One last report was on Mario Party, when some of the mini-games involves spinning the control stick, which led to the control stick breaking off, players getting blisters and the control stick flying off the controller. Nintendo then released protection gloves and Nintendo Gamecube style control stick controllers.
The console celebrated its 20th anniversary in 2016, and Nintendo cut 20% of the prices of Nintendo 64 games on Wii U's eShop.
Trivia
The console sold up to 32 million units.
This console was the last home game console to use game cartridges until 21 years later when Nintendo released the Switch.
The best-selling game for this console is Super Mario 64 at 10 million copies. The game then proved really good hits for the console.
The most acclaimed game of the console is Legend of Zelda: Ocarina of Time
The controller can be confusing for players as the analog stick is at the bottom instead of the top.
Some say the controller's control stick is the first controller have a control stick, it is not, it is just the first successful controller to have a control stick. The Vectrex was the first console to have a control stick.
Also, the Vectrex had four controller ports, something which wasn't popularised until the Nintendo 64.
Reports were going on about the control stick as the player's thumb can easily slip off and the control stick breaking because it is not connected to a ball like other control sticks.
People say that the console was the first console ever to have 3D. It is not as the PlayStation is the first console to have proper 3D. The console was the first console to have computer-generated 3D.