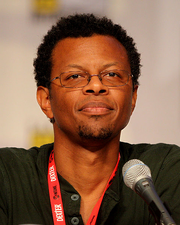 Phillip "Phil" LaMarr (born January 24, 1967) is an American actor, comedian and voice actor. One of the original cast members on the sketch comedy series MADtv, he is also known for his small, but memorable role as Marvin in Pulp Fiction. He has an extensive voice acting career, with major roles spanning animated series Justice League/Justice League Unlimited, Futurama, Samurai Jack, Static Shock, and Foster's Home For Imaginary Friends, and video games Metal Gear Solid 2 and 4, and Metal Gear Rising: Revengeance, the Jak and Daxter series, Darksiders, Final Fantasy XII, inFAMOUS, Dead Island and the Mercenaries series.
Early life
LaMarr was born in Los Angeles, California. He is a graduate of Harvard High School in North Hollywood, and Yale University, where he helped found the improv comedy group Purple Crayon. One of his biggest roles at Yale was the title character in the British comedy Trevor. After graduating in 1989, LaMarr became a member of the award-winning sketch and improv comedy group The Groundlings. He also studied improv at The Second City and at the ImprovOlympic in Chicago with Del Close. He has also improvised with Cold Tofu and Off the Wall. His early film jobs arose from connections from his improv and college years. For example, LaMarr appeared in the film It's Pat (1994), written by friends from the Groundlings, and he appeared in Bio-Dome because the director was a friend from college.
Career
MADtv
LaMarr, unlike most of the other original nine cast members of MADtv, had extensive television and film jobs experience when he joined the show. Even before college, he had voiced a character on the Mister T cartoon show.
Some of the recurring characters LaMarr performed on MADtv were Desperation Lee ("Funky Walker Dirty Talker"), Jaq the UBS Guy, "sexy player" Rick, talentless R&B singer Savante and Rocket Revengers star Lieutenant Abraham Jefferson (a.k.a. Lincoln Willis).
LaMarr has done impressions of celebrities such as
He has done impressions of Moe Howard from The Three Stooges while playing an African-American version of the character.
LaMarr left MADtv at the end of the fifth season (2000).
Sometimes, LaMarr fills in for Greg Proops on the Odd News small, 4 minute section on Yahoo.com. It features odd, but true recent news.
Voice acting work
LaMarr's voiceover credits include a starring role on Justice League/Justice League Unlimited as Green Lantern, a major role as Hermes Conrad and various other characters on Futurama, and the title roles on Samurai Jack and Static Shock. LaMarr reprised his role as Hermes Conrad in the Futurama movies Bender's Big Score, The Beast with a Billion Backs, Bender's Game, and Into the Wild Green Yonder. He regularly voices characters on Family Guy including weatherman Ollie Williams and the black judge. He also voices Wilt and other recurring characters in Foster's Home for Imaginary Friends, and Carver Descartes on The Weekenders. He additionally voices Jazz, Omega Supreme, Oil Slick, and Jetstorm on Transformers Animated. LaMarr played both Gambit and Trask in the animated TV show Wolverine and the X-Men. LaMarr portrayed Nautolan Jedi Master Kit Fisto in Star Wars : The Clone Wars on Cartoon Network; he also played Amit Noloff, a one time character, and a Tactical Droid. He also had a major role in Class of 3000 as Philly Phil. He is the voice of Baxter Stockman in the current Teenage Mutant Ninja Turtles, and voices JARVIS and Wonder Man in The Avengers: Earth's Mightiest Heroes.
Film and theatre projects
LaMarr's stage credits include The Tempest, As You Like It, Guys and Dolls, Asylum, South Coast Repertory's Make the Break and the Sacred Fools Theater Company's inaugural production ofThe Fatty Arbuckle Spookhouse Revue.
On the big screen, LaMarr is most well known as Marvin from Pulp Fiction. He has appeared in Kill the Man, Free Enterprise, Cherish, and Manna from Heaven. He appeared in Speaking of Sexwith Bill Murray and Catherine O'Hara, and Back by Midnight with Kirstie Alley, Rodney Dangerfield, and Randy Quaid.
LaMarr's recent film appearances include Fronterz (2004) and Choose Your Own Adventure: The Abominable Snowman (2005). As of April 2006, LaMarr is filming Cook-Off!, in which he will appear as Rev. Thaddeus Briggs, Esq.
LaMarr made a cameo appearance in the Will Ferrell film Step Brothers in which he is viewing a house for sale with his wife.
LaMarr also was in the Yum Corp Sexual Harassment training videos.
LaMarr is playing Cowboy Curtis in the Broadway production of The Pee-wee Herman Show which begins performances Oct. 26th at the newly named Stephen Sondheim Theater. He played the role when the show was recently revived in Los Angeles. The character was originally portrayed on television by Laurence Fishburne. The Broadway production of The Pee-wee Herman Show was recently taped for special to be aired on HBO in April.
LaMarr also appeared in Spider-Man 2 as one of the riders standing behind Spidey, as he was trying to save the subway train.
Video game voiceover work
LaMarr performed the English voice over work for Vamp, a villain of Metal Gear Solid 2: Sons of Liberty and Metal Gear Solid 4: Guns of the Patriots. Additionally, LaMarr voiced the characters Reddas from Square Enix's Final Fantasy XII as well as Ramza in the PSP version of Final Fantasy Tactics: The War of the Lions. He also did several voices, including Skelter, for Vampire: The Masquerade – Bloodlines.
He also did the English voice acting for the parts of Sig and Count Veger in the Jak and Daxter video game series as well as voicing several characters in the game Marvel: Ultimate Alliance, as well as the voice of Gadon Thek in Star Wars: Knights of the Old Republic. As well as a featuring in the Sega CD game Make My Video C+C Music Factory, he also was the voice of Chris Jacobs in both Mercenaries: Playground of Destruction and its sequel, Mercenaries 2: World in Flames. He plays the character John White/The Beast in the PS3 titles Infamous 1 and 2. Also, he plays the character Dr. Ragland in the game Prototype.
He also was the voice of the grumpy Kane in the game The Legend of Spyro: A New Beginning, and Marty in the video game tie-in of Madagascar.
LaMarr also recently voiced the merchant "Vulgrim" in the new action/adventure hybrid Darksiders.
He reprised his role as Kit Fisto for the video game: Star Wars: The Clone Wars - Republic Heroes. LaMarr voiced Rick Grimes in the animation film of The Walking Dead.[1]
He also voiced Sam B, one of the playable characters in Dead Island, and recently made his debut in the Kingdom Hearts series in Kingdom Hearts 3D: Dream Drop Distance as Phoebus, a character originally from The Hunchback of Notre Dame and voiced by Kevin Kline.
He recently returned to the Metal Gear franchise as the voice of Kevin Washington in Metal Gear Rising: Revengeance.
Webisode projects
LaMarr is set to appear as a regular character in the forthcoming major webisode series Naught for Hire produced by Jeffrey Berman and Farscape's Ben Browder. His character, Mark One, is described to be that of an elevator with mood-swings. It is unclear whether or not he will be solely the voice of this character or if he will appear in person similarly to that of Max Headroom, a concept which Browder has pulled from before when writing for Farscape episode John Quixote, which used an elevator displaying a talking human interface on a screen within.[2] A date has not yet been set for the series' release.
Selected filmography
Year
Title
Role(s)
Notes
1983
Mister T
Woody
Voice only
1991
Murphy Brown
Ben Lawson
Television series
1992
Jake and the Fatman
Assistant
episode "There'll Be Some Changes Made"
1993
The Fresh Prince of Bel-Air
Edward
Television series
Wings
Gil the Mechanic
Television series
L.A. Law
Reporter #3
Television series
Sex, Shock & Censorship
Butch Jones
Television series
Mad About You
Marshall
Television series
1994
A Cool Like That Christmas
Harlan

Sockman

Voice only
Hangin' with Mr. Cooper
Leonard Pickett
Television series
The George Carlin Show
Bob Brown
Television series
Pulp Fiction
Marvin
Got shot in the face
It's Pat
Stage Manager
1995
Living Single
Joe
Television series
Sawbones
Stanley Johnson
Television film
1995–2000
MADtv
Various Characters
Sketch comedy television series

112 episodes

1996
Bio-Dome
Assistant
1998
One Hand, Left
Narrator
Voice only
The Wild Thornberrys
Tuku
Voice only

Animated series

Zoomates
Warren

Solicitor Guy #1

Voice only

Animated short film

Suicide, the Comedy
Erik
The Thin Pink Line
Jimmy 'Licorice Whip' Wilson
Free Enterprise
Eric
1999
Hey Arnold!
Jamie O
Voice only

Animated series

The Happy Prince
Second Pigeon

New Mayor

Voice only

Animated television film

Kill the Man
Marky Marx
1999–Present
Futurama
Hermes Conrad

Additional Voices

Voice only

Animated series

1999–Present
Family Guy
Ollie Williams

Judge Various characters

Voice only

Animated series 52 episodes

2000
The Weekenders
Carver
Voice only

Animated series

Lost Cat
Lost Cat
Evil Con Carne
Hector Con Carne
Voice only

Animated series

Eat Your Heart Out
Stage manager
A Man Is Mostly Water
Testifier
2000–2001
Nikki
Richard
Television series
2000–2001
Yes, Dear
Steve
Television series
2000–2004
Static Shock
Virgil Ovid Hawkins/Static
Voice only

Animated series

2001
Metal Gear Solid 2: Sons of Liberty
Vamp
Voice only
NYPD Blue
Sidney Thompson
Television series
Philly
Anthony
Television series
Speaking of Sex
Joel Johnson, Jr.
The Assistant
Burton Salt
Television series
2001–2004
Samurai Jack
Jack
Voice only

Animated series

2001–2006
The Grim Adventures of Billy & Mandy
Hector Con Carne

Irwin's Dad Dracula Judge Roy Splean various

Voice only

Animated series

2001–2006
Justice League/Justice League Unlimited
John Stewart/Green Lantern
Voice only

Animated series

2002
Manna from Heaven
Asst. Casino Manager
Invader Zim
Poop Dawg

The Letter M Noogums/shnooky

Voice only

Animated series

Evil Alien Conquerors
Vel-Dan
Back by Midnight
Mile Away
Cherish
Yoga instructor
Jane White Is Sick & Twisted
Bert
2002-2004
Fillmore!
Nelson Kelloch, MC, Elderly Man, Snooty Student
Voice only

Animated series

2002–2007
Kim Possible
Vinnie
Voice only

Animated series

2003
Ozzy & Drix
Osmosis Jones
Voice only

Animated series

Star Wars: Knights of the Old Republic
Gadon
Voice only

Video game

Without a Trace
Tom Lewis Jr.
episode "Kam Li"
Creepy Freaks
Assorted freaks
Direct-to-video short film
2004
The Adventures of Jimmy Neutron: Boy Genius
Bolbi Stroganofsky
Voice only

Animated series

Scooby-Doo and the Loch Ness Monster
Angus Haggart

Volunteer #2

Voice only

Direct-to-video animated film

Ground Control II: Operation Exodus
Voice only

Video game

The Fairly OddParents
Mr. Phifer
Voice only

Animated series

Vampire: The Masquerade – Bloodlines
Various voices
Voice only

Video game

Reno 911!
Craps guy
Television series
Cold Case
Kiki Solis
Episode "Discretion"
Shark Tale
Pawn shop owner
Voice only

Animated

Quake 4
Marines
Voice only

Video game

Spider-Man 2
Train Passenger
Uncredited
2004–2005
Harvey Birdman, Attorney at Law
Black Vulcan
Voice only

Animated series

2004-2009
Foster's Home for Imaginary Friends
Wilt

Additional voices

Voice only

Animated series

2005
Samurai uesutan: Katsugeki samurai-dô
Donald

Thrower

Voice only

Video game

Mercenaries: Playground of Destruction
Christopher Jacobs

News Correspondent 2

Voice only

Video game

The Life and Times of Juniper Lee
Marcus Connor

Additional voices

Voice only

Animated series

Kim Possible Movie: So the Drama
Voice only

Animated television film

Catscratch
Squeakus – Mouse
Voice only

Animated series

Stewie Griffin: The Untold Story
Ollie Williams

Additional voices

Voice only

Direct-to-video animated film

The Proud Family Movie
Dr. Carver in Disguise

Board member

Voice only

Animated television film

Jak X: Combat Racing
G.T. Blitz

Sig Mizo Kaeden Thugs

Voice only

Video game

The Matrix: Path of Neo
Operator

Ballard SWAT Soldier

Voice only

Video game

True Crime: New York City
Voice only

Video game

50 Cent: Bulletproof
Bugs
Voice only

Video game

Loonatics Unleashed
Drake Sypher
Voice only

Animated series

Second Time Around
Myron
Barbershop: The Series
Derrick
Television series
2005–2008
Robot Chicken
Ang Lee

Squirrel Michael Jackson

Voice only

Stop motion animated series

2006
The Batman
Maxie Zeus
Voice only

Animated series

The Adventures of Brer Rabbit
Brer Gator
Voice only

Direct-to-video animated film

Choose Your Own Adventure: The Abominable Snowman
Pasang
Voice only

Direct-to-video animated film

My Gym Partner's a Monkey
Virgil "Bull" Sharkowski

Additional voices

Voice only

Animated series

Tekkonkinkreet
Dusk
Voice only
The Legend of Spyro: A New Beginning
Kane
Voice only

Video game

Final Fantasy XII[3]
Reddas
Voice only

Video game

Marvel: Ultimate Alliance
T'Challa/Black Panther
Voice only

Video game

Drawn Together
Ray-Ray
Voice only

Animated series

Class of 3000
Philly Phil
Voice only

Animated series

Scarface: The World Is Yours
Drug dealer
Voice only

Video game

Avatar: The Last Airbender
The 52nd Earth King Kuei
Voice only

Animated series

Cook-Off!
Rev. Thaddeus Briggs, Esq.
2007
Afterworld
Col. Nixon
Voice only

Animated web series

TMNT
Various voices
Voice only

Animated

Futurama: Bender's Big Score
Hermes Conrad

Additional voices

Voice only

Direct-to-video animated film

Afro Samurai
Afro (teenager)

Brother 1 Brother 3 Brother 5

Voice only

Animated miniseries

El Tigre: The Adventures of Manny Rivera
Raheem

Captain Photon

Voice only

Animated series

Final Fantasy Tactics: The War of the Lions
Ramza Beoulve
Voice only

Video game

Curb Your Enthusiasm
Pharmacist
Television series
Dragonlance: Dragons of Autumn Twilight
Riverwind

Gilthanas

Voice only

Animated

2008
Metal Gear Solid 4: Guns of the Patriots
Vamp
Voice only

Video game

Mercenaries 2: World in Flames
Christopher Jacobs
Voice only

Video game

Futurama: The Beast with a Billion Backs
Hermes Conrad

Additional voices

Voice only

Direct-to-video animated film

Transformers Animated
Jazz
Voice only

Animated series

The Spectacular Spider-Man
Randy Robertson
Voice only

Animated series

Wolverine and the X-Men
Remy LeBeau/Gambit
Voice only

Animated series

Condemned 2: Bloodshot
LeRue

Bum

Voice only

Video game

Madagascar: Escape 2 Africa
Tour Guide
Voice only

Animated

Saints Row 2
Mr. Sunshine
Voice only

Video game

Phineas And Ferb
Street Performer

Bangaroo Security Guard

Voice only

Animated series

Star Wars: The Clone Wars
Kit Fisto

Bail Organa Orn Free Taa

Voice only

Animated series

2009
F.E.A.R. 2: Project Origin
Cedric "Top" Griffin
Voice only

Video game

[PROTOTYPE]
Dr. Bradley Rangland
Voice only

Video game

inFAMOUS
John White
Voice only

Video game

Futurama: Into the Wild Green Yonder
Hermes Conrad

and other voices

Voice only

Direct-to-video animated film

2010
Darksiders
Vulgrim
Voice only

Video game

Mass Effect 2
Mouse, Rukar
Voice only

Video game

Big Time Rush
Hawk
Television film
Monkey Island 2 Special Edition: LeChuck's Revenge
Captain Dread

Woody the Woodsman Governor Phatt's Guard Skeleton[4]

Voice only

Video game

Young Justice
Arthur Curry/Aquaman
Voice only

Animated series

Tom and Jerry Meet Sherlock Holmes
Spike

Policeman

Voice only

Direct-to-video animated film

The Avengers: Earth's Mightiest Heroes[5]
JARVIS
Voice only

Animated series

2011
inFAMOUS 2
John White
Voice only

Video game

G.I. Joe: Renegades
Scrap-Iron
Voice only

Animated series

Dead Island
Sam B.
Voice only

Video game

Real Steel
ESPN Boxing Commentator
X-Men: Destiny
Gambit
Voice only

Video game

Night of the Hurricane
Ollie Williams
Voice only

Television special

2012
Happy Endings
Phil
episode "Makin' Changes"
Napoleon Dynamite TV series
Gorilla Lead Singer
Voice only

Animated series

Ultimate Spider-Man
J.A.R.V.I.S.
Voice only

Animated Series

Teenage Mutant Ninja Turtles
Baxter Stockman
Voice only

Animated series

Kingdom Hearts 3D: Dream Drop Distance
Phoebus
Voice only

Video game

Darksiders II
Vulgrim
Voice only

Video game

2013
Dead Island Riptide
Sam B.
Voice only

Video game

Metal Gear Rising: Revengeance
Kevin Washington
Voice only

Video game