We're Getting Mutants in the MCU - The Loop
Play Sound
Notice: this page uses content stolen from Wikipedia
Uh-oh! It looks like this article is Stolen!
this page uses content stolen from Wikipedia.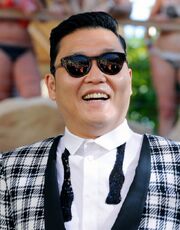 Park Jae-sang (b. December 31, 1977-), better known by his stage name Psy stylized PSY, is a South Korean singer, songwriter, rapper, dancer, and record producer. Psy is known domestically for his humorous videos and stage performances, and internationally for his hit single "Gangnam Style." The song's refrain "Oppan Gangnam Style" (translated as "Big brother is Gangnam style", with Psy referring to himself) was entered into The Yale Book of Quotations as one of the most famous quotes of 2012.
On October 23, 2012, Psy met UN Secretary General Ban Ki-moon at the United Nations Headquarters where Ban expressed his desire to work with the singer because of his "unlimited global reach". On December 21, 2012, at around 15:50 UTC, his music video for "Gangnam Style" exceeded 1 billion views on YouTube, becoming the first and currently only video to do so in the website's history. Psy was subsequently recognized by the media as the "King of YouTube". In December 2012, MTV noted Psy's rise from little-known to "global superstar", and, for being first in the YouTube-era to secure a place in pop culture history, hailed the singer as the "Viral Star of 2012". On December 31, 2012, Psy performed in a globally televised New Year's Eve celebration with American rap-artist MC Hammer on-stage in front of a live audience of over 1 million people in Times Square, New York City.
Biography
1977–95: Early life
Park Jae-sang was born on December 31, 1977 to an affluent family in the Gangnam District of Seoul, South Korea.  His father, Park Won-Ho, is the executive chairman of DI Corporation, a manufacturer of semiconductors listed on the Korea Exchange.
Park attended Banpo (반포) Elementary and Middle Schools and Sehwa  High School. He disliked school and bothered some of his classmates, although he also sometimes made them laugh. In an interview on South Korea's Seoul Broadcasting System, a former teacher of Park said "I remember PSY making a lot of sexual jokes during class. He had such a big influence that he would cull the attention of the entire class to his jokes. I disliked him at the time, but looking back, I see that he added a great energy to the class."
Park told CNN's Alina Cho that when he was 15 years old, he watched a Korean TV programme that introduced foreign pop music. One particular episode showed a concert at Wembley Stadium held by the British rock band Queen where they performed their 1975 hit single "Bohemian Rhapsody". Park said it was this concert footage that sparked his love for music.
1996–2000: Brief study in the United States and career beginnings
The Berklee College of Music in Boston, MassachusettsAs part of preparations to take over DI Corporation from his father, Park had originally planned to study business administration at Boston University in 1996.[18] However, upon his arrival in the United States, he lost interest in his studies, spending his remaining tuition funds on musical instruments and entertainment equipment, including a computer, an electric keyboard, and a MIDI interface.[20] After attending an English-language summer course and studying for one semester, Park dropped out of Boston University and applied to study at Berklee College of Music instead. During his time at Berklee, Park took core curriculum lessons in ear training, contemporary writing and music synthesis, but he soon dropped out and returned to South Korea to pursue a career as a singer, without having attained a degree from either Boston University or Berklee.
In South Korea, Psy made his first appearance on Korean national television in 2000 after his dancing caught the eye of a TV producer.
2001–02: PSY from the Psycho World!, controversy, and domestic success
In January 2001, PSY debuted his full-length album Psy from the PSYcho World!, for which he was fined by South Korean government authorities due to his album's "inappropriate content". PSY was a rookie hip hop singer that stirred up the Korean pop music scene with very blunt lyrics, peculiar dance moves and an unconventional appearance that earned him the nickname "The Bizarre Singer".
His second album Sa 2 also created controversy upon its release in 2002, earning complaints from civil groups due to the potentially negative influence his album would have on children and teenagers. Since then, Psy has been thought of as a controversial artist, and Sa 2 was banned in 2002 from being sold to the under-19 set. In September of the same year, Psy released his third album 3 PSY. The album's title song, "Champion", saw great success partly due to the hype from the World Cup games held in Seoul. Despite the significant amount of controversy surrounding his music, Psy was awarded songwriting accolades at the annually held Seoul Music Awards, marking his breakthrough in the South Korean music industry.
2003–09: Military service, Sa Jib, and re-enlistment
In 2003, Psy was enlisted in the South Korean military as part of mandatory military service imposed on all South Korean men aged 18 to 35.[30][31] Psy was excused from military duty due to working at a software developing company (the South Korean government grants those with technical expertise work in companies that serve the national interest). He was expected to be released from duties in 2005.[32] In 2006, Psy released his fourth album Sa Jib, which won honors at the 2006 SBS Music Awards and Hong Kong's Mnet Asian Music Awards.
In 2007, state prosecutors accused Psy of "neglecting" his work, holding concerts and appearing on local television networks during his period of prior employment. On October 12, 2007, the Seoul Administrative Court decided that Psy must be redrafted, rejecting a lawsuit filed by Psy against the Military Manpower Administration (MMA) in August. Two months later, Psy was re-drafted into the military where he had held the rank of Private First Class and served as a signalman in the 52nd Army Infantry Division, before being released from duties in July 2009.[34][35]
2010–12: 5th studio album and debut performance in Japan
Owing to financial difficulties, Psy could no longer release his own songs. His wife encouraged him to join the South Korean music label YG Entertainment, whose founder and chief executive officer Yang Hyun-suk was an old friend of Psy.[36] In 2010, Psy joined YG Entertainment,[37] The K-Pop singer Kim Heechul from the boyband Super Junior, expressed that he'd wished Psy would have joined his group's label SM Entertainment instead.[38] Psy released his fifth album PSY Five in 2010, and its lead single "Right Now" was banned from under-19 audiences by South Korea's Ministry of Gender Equality and Family for what it deemed an "obscene" lyric, "Life is like toxic alcohol".[39] Despite the ban, Psy received awards during the 2011 Melon Music Awards and Mnet Asian Music Awards. Psy had, up until this point, topped domestic music charts half a dozen times throughout his twelve-year career in South Korea.
On January 7, 2012, Psy performed alongside K-Pop bands BIGBANG and 2NE1 in front of 80,000 Japanese fans during the YG Family Concert in Osaka. His performance was broadcast by Mezamashi TV (mezamashi meaning "wake-up alarm"), a Japanese news magazine show produced by Fuji Television. This marked his first appearance on a foreign broadcasting network. During the concert, Psy introduced himself to his Japanese fans with a sign that read "I'm a famous singer well-known for driving the audience wild in Korea, but here, today, I'm just a little chubby newcomer" and sang five of his hit songs while Japanese TV commentators expressed their approval in their astonishment at his humorous incorporation of the moves of Lady Gaga and Beyonce.
He has made severals songs, along side Gangnam Style, none of which have rosen to high popularity as the latter song.