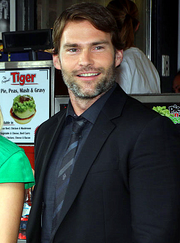 Seann William Scott (born October 3, 1976) is an American comedic actor who is best known for playing the role of Steve Stifler in the American Pieseries. He also played roles in the films Final Destination, Road Trip, Dude, Where's My Car?, Evolution, Bulletproof Monk, The Rundown, The Dukes of Hazzard, Role Models, Cop Out, and Goon.
Early life
Scott, the youngest of seven children, was born in Cottage Grove, Minnesota. He is the son of Patricia Anne (née Simons), a homemaker, and William Frank Scott, a factory worker.[1] His eldest brother, Daniel, while at the University of Wisconsin–Madison, helped found The Onion, and was among the earliest writers for it.[2] He was inspired to become an actor while working at the local movie theater and seeing all the movies he could watch free.[citation needed]
Career
Scott's first commercial success came with the 1999 film American Pie, as Steve Stifler, a role he reprised in three sequels, American Pie 2 (2001),American Wedding (2003), and American Reunion (2012).[3] For his supporting role in the first film, Scott was paid only $8,000.[4] As Scott demanded more screentime, he was granted the lead role in the third film American Wedding, though he only received second billing. Though the character of "Steve Stifler" propelled Scott into the public consciousness, the actor has mentioned in a variety of interviews his fear of typecasting, which has led him to choose to play different types of characters post-American Pie,[citation needed] such as a hapless nerd in the film Final Destination and a harmless stoner character in Dude, Where's My Car?, alongside Ashton Kutcher. He made an appearance in Kevin Smith's Jay and Silent Bob Strike Back as a guitar-playing animal rights activist and has a starring part as a police officer in Southland Tales, where he re-unites with fellow actor Dwayne "The Rock" Johnson, with whom he had previously worked in The Rundown. Scott hosted the MTV Movie Awards 2003 alongside Justin Timberlake. The two performed several skits, including scenes from The Matrix Reloaded, which are on The Matrix Reloaded DVD. He has also hosted Saturday Night Liveand appeared as a guest co-host on Live with Regis and Kelly. He co-starred in Cop Out, Kevin Smith's action comedy, alongside Bruce Willis and Tracy Morgan.[5]
Personal life
On March 16, 2011, Scott was admitted to a treatment facility for "health and personal issues". His representatives declined to confirm any details about the decision, including specifying the facility.[6] On April 13, 2011, it was reported that Scott had successfully completed the treatment program.[7]
In March 2012, Scott confirmed that he is engaged to model Lindsay Frimodt.[8] In January 2013, US Weekly reported that this engagement had ended and that the two had split as friends.[9]
Filmography