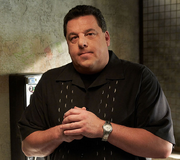 Steven Ralph "Steve" Schirripa (pron.: /ʃɨˈriːpə/, Italian pronunciation: [skirˈripa]; born September 3, 1957)[1] is an American stand-up comedian, actor, producer, voice artist, and author. He is best known for playing Bobby Baccalieri on The Sopranos. Schirripa is currently the host of Nothing Personal, a regular cast member of ABC Family's The Secret Life of the American Teenager, and the voice of Roberto in the Open Season franchise. He has also done commercials for Lamisal and Dick's Sporting Goods.
Early life
Schirripa was born Steven Ralph Schirripa[2] in Bensonhurst, Brooklyn, New York. His father Ralph was Italian American. His grandparents Ilario Schirripa and Maria Capacci came from Riace, Italy and his mother is Jewish.[3][4] He was educated at Brooklyn College.
Career
Film and television work
While working in Las Vegas, Schirripa landed a role as an uncredited extra in the Martin Scorsese classic Casino. He played a customer at the bar in the infamous scene when Joe Pesci's character angrily stabs a man with a pen. After this, Schirripa decided that he wanted to become an actor.[citation needed] He had several minor roles in movies, including The Runner (1999) and Joe Dirt. His breakthrough role was in The Sopranos (2000), playing Tony Soprano's dense but likable mobster brother-in-law Bobby Baccalieri for 6 seasons.
His many television appearances include Angel, Casino Cinema, Star Trek: Enterprise, Hollywood Squares, Joey, Law & Order, Law & Order SVU, My Wife and Kids, Ed, Jeopardy!, George Lopez,Tim and Eric Awesome Show, Great Job! and The King of Queens.[5] Schirripa recently appeared on CBS's primetime game show Million Dollar Password. Furthering his game show enthusiasm, Schirripa appeared on the game show Pyramid helping contestant Scott Zinser win $10,000. He also made an uncredited appearance, along with fellow Soprano star Vincent Pastore, on the 6th Season episode of Aqua Teen Hunger Force entitled "She Creature".
Schirripa was a frequent guest on the Don Imus radio program. In February 2007, he began to make appearances for Total Nonstop Action Wrestling, on Spike TV, siding with Team 3D as their cousin in their ongoing battle against The Latin American Xchange. On October 30, 2007, he appeared on, The Podge and Rodge Show. He is also currently doing spots as "Steve the Judgmental Bastard," on The Tonight Show with Jay Leno, and has recently taped several episodes of, The Gong Show with Dave Attell, as one of the celebrity judges.
Since 2008, Schirripa has had a recurring in the ABC Family show, The Secret Life of the American Teenager, as Leo, the main character Ben's dad. Secret Life has being renewed for a fourth season, to start in Summer 2011.
In 2009, he made a cameo appearance alongside fellow Sopranos actor Frank Vincent in Stargate Atlantis episode "Vegas".[6] Recently, he was in My Fake Fiancé with Melissa Joan Hart andJoey Lawrence as the Monkey.
Schirripa was also the co-host on NBC's Today Show during its' fourth hour with Kathie Lee Gifford, as Hoda Kotb was out. This occurred the week of July 17. He has appeared on the Tonight Show more than 40 times as a guest and as a correspondent. Schirripa hosted NBC's poker game show, Face the Ace, with the premiere episode airing on August 1, 2009.
In the Fall, 2010, Schirripa had a guest star role in the digital comedy short film, "Lil DPC," from writer/director Michael Ratner, which also features Rapper Fat Joe and Blink 182's Mark Hoppus.http://www.lildpc.com
Schirripa is the host and narrator of the television true-crime series Nothing Personal,[7] which premiered in the U.S. on Investigation Discovery and in the UK on History. The series features true stories and reenactments of murders-for-hire. In addition to hosting the hour-long programs, Schirripa is one of the program's executive producers. The programs were filmed on location around the United States and in Ontario, Canada.
Recently, Schirripa has provided the voice for the lemon in McDonald's McCafe Strawberry Lemonade commercials. He has also guest-starred in the American version of Top Gear.
Personal life
Schirripa now resides in New York City with his wife Laura Schirripa, and their 2 daughters Bria and Ciara. He played basketball at Brooklyn College, where he was captain for two seasons. Before getting into acting, he worked on the Las Vegas Strip as the Riviera entertainment director.
He is an avowed New York Yankees fan.
Schirripa has also written a series of Goomba-themed books with author Charles Fleming, such as A Goomba's Guide to Life, The Goomba's Book of Love, and The Goomba Diet.
Filmography