We're Getting Mutants in the MCU - The Loop
Play Sound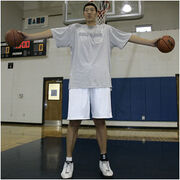 Sun Ming Ming (born August 23, 1983) is a Chinese basketball player. He is one of the tallest players to ever play professional basketball. He is 7 ft 8.75 in (235.5 cm), weighing 370 pounds (168 kg).
He was born in a small town called Bayan near Harbin, China, in the Heilongjiang province. Sun did not start playing basketball until he was 15, when he was 6 ft 7 in.
Sun Ming Ming came to the United States in early 2005 to train for a possible career in the NBA. He was declared eligible in the 2005 NBA Draft, and had a brief tryout with the Los Angeles Lakers, but was not selected in the draft.
In the summer of 2005, Sun discovered that he had a benign brain tumor attached to his pituitary gland that was stimulating the over-production of growth hormone, a potentially fatal condition known as acromegaly. Because he had neither health insurance nor enough money to pay for the more than $100,000 in medical bills, his agent, Charles Bonsignore, started a fund raiser to raise the necessary funds. The tumor was successfully removed on September 26, 2005.
After surgery, Sun played with several minor league basketball teams, including the USBL team Dodge City Legend, the Maryland Nighthawks of the ABA and the Grand Rapids Flight of the IBL.
On June 20, 2007, Sun signed with Mexican professional team Fuerza Regia from Monterrey.
Sun left Fuerza Regia due to surgery in November of 2007. Sun signed to play with Hamamatsu Phoenix in the bj league in Japan. He is currently averaging 8.6 points and 5.9 rebounds per game.
Sun has made several television appearances, including on Jimmy Kimmel Live! on October 11, 2006. He was also the subject of a documentary television show, Anatomy of a Giant, which was originally broadcast on the Discovery Health Channel on October 15, 2006. He also appeared in a fight scene with actors Chris Tucker and Jackie Chan in the film Rush Hour 3.
On March 11, 2007, Sun was a part of the tallest lineup in the world, a Guinness World Record, with four players over 7-foot, including former NBA player Gheorghe Muresan. Ming wears size 20 sneakers.