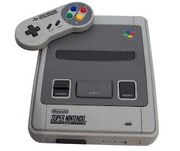 Super Nintendo Entertainment System a.k.a SNES (Super Famicom in Japan) is a fourth-generation home video game console released by Nintendo EAD in 1990.
About it
The console was released because of good hits of the Nintendo Entertainment System. The graphics in this console is better than the Nintendo Entertainment System because it was a upgrade.
The console was announced in 1988 and was unveiled on Christmas Day 1989. The console was released in 1990 with Super Mario World. The console became an international success, grossing 40 million units and releasing nearly three-hundred games. The console was discontinued from the market in 2000. The console is still famous to collectors.
Trivia
The console surpassed the Nintendo Entertainment System, but was surpassed itself by the Nintendo 64.
The best-selling game for the SNES is Super Mario World, at 20 million copies.
The game, Super Mario Kart started the Mario Kart series.
Some of the games were released onto the Wii's Virtual Console.
This console sold 40 million units.
The Wii's Classic Controller is similar to the SNES controller, so the Classic Controller is good for playing SNES games on the Virtual Console channel.
The violence that some of the games had led to the creation of the Entertainment Software Ratings Board.
The console's internal motherboard has a chip called the FX, which made certain SNES games polygon 3D. It was the first console ever to have 3D in it when Starfox was released in 1994.
There was a CD addon planned for this, but it was scrapped.