Person
Susie Elizabeth Gibson (October 31, 1890 (or 1889, according to herself and her Social Security record ) –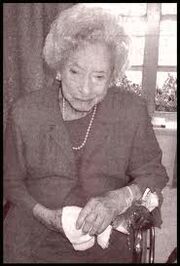 February 16, 2006) was an American 
supercentenarian
 and 
the third-oldest person in the world
 at the time of her death. She currently ranks as 
one of the 25 oldest validated persons of all time
. Moreover, Gibson was older than several 'world's oldest persons'. She came along at a time of heavy competition: 
María Capovilla
, 
Elizabeth Bolden
 and 
Bettie Wilson
 together marked just the second time there were four living at least 115-year-olds at the same time in 2005–2006 (the first time was in 1997–1998). In addition to her age, Gibson was in remarkable shape, able to be interviewed by 
NBC
 and others and still mentally fit until her final months. Unlike those confined to a nursing home, Gibson went out to eat at O'Charley's restaurant regularly, even up to age 115.