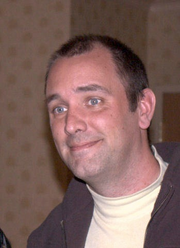 Trey Parker (born Randolph Severn Parker III; October 19, 1969) is an American actor, voice artist, animator, screenwriter, director, producer and musician, best known for being the co-creator of South Park along with his creative partner and best friend Matt Stone, as well as co-writing and co-directing the 2011 multi-Tony Award winning musical The Book of Mormon.
Parker started his film career in 1992, making a holiday short titled Jesus vs. Frosty. His first success came from Cannibal! The Musical. From there he made another short titled Jesus vs. Santa, which led him and college friend Stone to create South Park, which began airing on television in 1997. He has won four Emmy Awards for his role in South Park, winning for both "Outstanding Programming More Than One Hour" and "Outstanding Programming Less Than One Hour".
Early life
Parker was born in Denver, Colorado, the son of Randy (a geologist) and Sharon (an insurance broker). The two share the first names and occupations of South Park characters Randy and Sharon Marsh.[2] He has an older sister named Shelley, which is also the name of Stan Marsh's older sister. In the sixth grade, Parker wrote a sketch titledThe Dentist and appeared in his school's talent show. He played the dentist and had a friend play the patient. The plot involved what can go wrong at the dentist; due to the amounts of fake blood involved, Parker's parents were called and were upset. "The kindergartners were all crying and freaking out," Parker recalled.[3] As a teenager, Parker developed a love for musical theatre, and joined the Evergreen Players, a venerable mountain community theater outside of Denver. At 14, he performed his first role as chorus member in The Best Little Whorehouse in Texas, Flower Drum Song and went on to also design sets for the community theater's production of Little Shop of Horrors. Parker attended high school at Evergreen High, where he continued his musical endeavors through starring as Danny Zuko in Grease. He also played piano for the chorus and was president of the choir counsel.[4][5]
Parker worked hard in school and had a part-time student job in a pizza restaurant. Parker was also a "film geek and music buff".[6] Parker grew up in the Conifer, Colorado area, and attendedBerklee College of Music before transferring to the University of Colorado, where he majored in music and Japanese.[citation needed]
Career
In 1992, Parker and Stone created Jesus vs. Frosty.[7] It included four boys, Stan Marsh, Kyle Broflovski, Kenny McCormick and Eric Cartman. Both Jesus vs. Frosty and Cannibal! The Musical were made while they were students at the University of Colorado film school, studying under both Stan Brakhage and Jerry Aronson. Afterwards, the two friends set off for Hollywood in hopes of making more movies. Brian Graden, then an executive at Fox, put Parker to work making a pilot for a musical children's television series called Time Warped. The pilot, called "Rom and Jul," was a love story about a Homo erectus and an Australopithecus. Fox passed on the series, but Graden paid Parker and Stone $1,200 to make a new version of The Spirit of Christmas he could send out as a video Christmas card.[3]
They came up with two worthwhile ideas; one a sequel to Jesus vs. Frosty, titled Jesus vs. Santa, and one about a character that would later be recurring in South Park, Mr. Hankey.[8] They chose to write about the four boys. The result was The Spirit of Christmas, an animated short film that centered on four crude-acting, blob-shaped third-grade boys forced to intervene in a nasty fistfight between Jesus Christ and Santa Claus. The tape was a smash, passed around and copied endlessly in media circles in Los Angeles and New York City.[9] The video landed in the hands of Doug Herzog of Comedy Central. "It literally was the funniest thing I'd ever seen," he said in a 2006 interview. "We said, 'Develop a show.' So they went off and developed the show."[3] Stone and Parker produced 13 episodes for season 1. South Park is currently still under contract to produce new episodes through 2016.[10] As of 2007, Parker is credited with directing and writing the vast majority of South Park episodes, and voicing most of the regular and guest characters.[11]
In 1997, they also released Orgazmo, a movie rated NC-17. In 1998, they starred in (but did not write or direct) BASEketball, another feature film, while being renewed for a second season ofSouth Park. In 1999, Parker and Stone made South Park: Bigger, Longer & Uncut, which gave the series a new level of prominence.[12] He was nominated for an Academy Award as the co-writer of one of the film's songs, "Blame Canada," but did not win. In 2001, the duo announced they would do 39 shorts between the lengths of 2 and 5 minutes. Although originally thought to be South Park related, they decided they would do something different. The result was the shorts Princess.[13] The content was so extreme that it was cancelled after two shows aired. In 2001, they also created That's My Bush!, another television series, which was cancelled after one season. In 2004, they made a film, titled Team America: World Police.[14][15] The film was not considered a box-office success, grossing 51 million dollars in theaters, despite largely positive reviews (78% fresh rating on RottenTomatoes.com).[16] In 2013, South Park will begin its seventeenth season with new episodes to air starting September 25.[17]
Parker is also a member of the band DVDA with Stone, for which he plays keyboards and sings. DVDA's songs have appeared in many of the duo's productions. They include Orgazmo,BASEketball, South Park: Bigger, Longer & Uncut, and Team America: World Police.[18][19][20][21]
Trey claimed to have been on acid with Matt Stone at the time of the 2000 Academy Awards, where they wore dresses popularized by Jennifer Lopez and Gwyneth Paltrow at previous awards shows.[22]
On September 28, 2007, Parker and Stone acquired the rights to the Canadian-made Kenny vs. Spenny, which premiered November 14, 2007 on Comedy Central with ten old and new episodes.[23]
In April 2010, Trey Parker and Matt Stone received a "warning" for allegedly representing the Prophet Muhammad in a bear costume: "We have to warn Matt and Trey [South Park creators] that what they are doing is stupid and they will probably wind up like Theo van Gogh for airing this show."[24] It was revealed in the next episode that the person in the bear costume was really Santa Claus and not the Prophet Muhammad.
On January 14, 2013, Parker and Stone announced that they would be starting a film production company called Important Studios. Inspired by the production work of Lucasfilm and DreamWorks, Parker and Stone considered founding the studio for approximately two years before committing. The initial financial assets of the studio are valued at $300 million, with the majority of the money originating from South Park, The Book of Mormon, while $60 million is from an investment from Joseph Ravitch of the Raine Group, giving him a 20 percent minority stock.[25]
Theater productions
Parker and Stone have collaborated with Avenue Q composer Robert Lopez on a musical about Mormons; it is titled The Book of Mormon, and stars Andrew Rannells and Josh Gad.[26] It has been produced by Scott Rudin and Anne Garefino. It opened at the Eugene O'Neill Theatre on March 24, 2011, following previews from February 24, 2011.[27] The Book of Mormon won nine Tony Awards in 2011, including that of Best Direction of a Musical for Parker and co-director Casey Nicholaw.
Voices on South Park
Personal life
In 2006, Parker married Emma Sugiyama. The officiant was 1970s sitcom producer Norman Lear.[1][28] That marriage ended, and Parker is now living with a woman and her son.[28][29] Parker is a Libertarian.[28][29]
On a September 2006 airing of the ABC news program Nightline, Parker articulated his position on religion. He stated that he believes there is knowledge that humanity may not yet possess, and cautioned that it would take a long time to explain exactly what he meant by his belief in God. Parker believes all religions are silly. He states that "All the religions are superfunny to me......The story of Jesus makes no sense to me. God sent his only son. Why could God only have one son and why would he have to die? It's just bad writing, really. And it's really terrible in about the second act." Parker further remarked, "Basically ... out of all the ridiculous religion stories which are greatly, wonderfully ridiculous — the silliest one I've ever heard is, 'Yeah ... there's this big giant universe and it's expanding, it's all gonna collapse on itself and we're all just here just 'cause ... just cause. That, to me, is the most ridiculous explanation ever."[30]
Discography
Filmography
Year
Production
Role
Other notes
1992
Jesus vs. Frosty
Actor, Producer, Writer
1993
Cannibal! The Musical
Director, Actor, Producer, Writer
1995
Jesus vs. Santa
Actor, Producer, Writer
Time Warped (un-aired television series)
Creator, Actor
Your Studio and You
Actor, Writer, Director
Cameo
1997
South Park (Television series; 1997–present)
Co-creator, Voice actor, Writer, Director, Executive producer
Orgazmo
Director, Actor, Writer, Producer
1998
BASEketball
Actor
1999
South Park: Bigger, Longer & Uncut
Director, Voice Actor, Writer, Producer, Music Co-Composer
Nomination - Academy Award for Best Original Song
Terror Firmer
Actor
2000
Even If You Don't
Director
Music Video
2001
Princess
Director, Writer, Voice Actor, Producer
Animation Shorts
That's My Bush! (Television Series; 2001)
Co-creator, Writer, Executive Producer
Cameo
2004
Team America: World Police
Director, Writer, Voice Actor, Producer
Tales from the Crapper
Actor
Cameo
2005
The Aristocrats
Guest Appearance
2007
Kenny vs. Spenny
Executive Producer
2007
Saul of the Mole Men
Voice actor
Television series, intro sung by him
Awards and nominations
Tony Awards
Trey Parker has won four Tony Awards.[31]
Emmy Awards
Grammy Awards
Academy Award nominations