Ty Panitz (born April 8, 1999) is an American child actor. He made his screen debut as Ethan Beardsley in the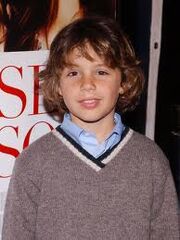 movie Yours, Mine and Ours (2005). His other roles include Woody Forrester in How to Eat Fried Worms.
Panitz has appeared in the TV series Bones, in the episodes "The Man in the Fallout Shelter", "The Mother and Child in the Bay", "The Man in the Cell", "The Santa in the Slush", "The Finger in the Nest", "The Bone That Blew", "The Beautiful Day in the Neighborhood", "The Beginning in the End", "The Mastodon in the Room", "The Twisted Bones in the Melted Truck", and "The Warrior in the Wuss" as Special Agent Seeley Booth's son, Parker. He also appeared in Stolen Lives and Santa Buddies.