Waiting is a SpongeBob SquarePants episode from season five. In this episode, SpongeBob waits for a toy to arrive in the mail.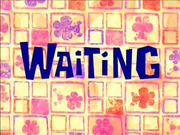 Time\Date
Characters
After: Rise and Shine
Plot
SpongeBob discovers that his breakfast cereal has an offer for a free toy. Once he responds to the offer, he must wait patiently for the toy to arrive. SpongeBob is getting impatient, so he sets up camp right next to his mailbox, determined to be present when the mailman shows up with his treasure. He gets frustrated when Sandy and Gary distract him with karate and feeding, respectively, and SpongeBob pulls down his eye sockets saying: "So tired!". Then, his stomach is seen growling, and he says: "So hungry!", but eventually the toy arrives and Patrick "breaks" it, leaving SpongeBob furious. However, Squidward shows him later that its head, arms, and legs are supposed to spring off, and reattaches them.
Cultural References
The box saying "Free toy offer inside" is a parody of cereal boxes that frequently make that claim. Since you must actually send in several box tops (and shipping fees) to get the toy it is not actually "free" and "inside"; you have to buy the cereal to get it and not actually inside.
​Trivia
Spongebob antagonizes Sandy ,Gary, and Patrick.
The title card shows still pictures of SpongeBob's toy.
This episode was featured right after the 2007 Kids' Choice Awards, due to it ending 13 minutes earlier.
The mark with the FREE TOY INSIDE before SpongeBob took it was orange when he read it, it turned pinkish-red.
When the mail man gives SpongeBob his prize, the mailbox is missing but in the next scene it re-appears.
There is no mailbox in SpongeBob's yard when he runs into his house or when he receives his toy, but there is when he is waiting.
This is another time of many running gags.

Patrick's stinginess (he gave SpongeBob a fork as a gift)
SpongeBob's antagonism (he maliciously threw Sandy)
Gary's insight (he pointed out the idea that SpongeBob send in boxtops without eating cereal)

There is a SpongeBob Children's Book called "Special Delivery" that came out some time before this episode was being made. The plot in both the book and the episode both bared a resemblance, but there were some differences:
In the book, SpongeBob receives a red string as a 'toy' but still enjoys it.
Patrick waits for the toy with SpongeBob.
SpongeBob and Patrick miss a whole bunch of holidays while waiting for the toy (eg. Christmas, Easter, Halloween, etc.) and wait for a year.
Patrick literally breaks SpongeBob's 'toy'.
SpongeBob and Patrick bury the broken string in a grave and even puts a tombstone on it.
Although, there are some similarities between the two.
SpongeBob send about a hundred boxtops and literally eats the all the cereal in every box.
Squidward ends up 'fixing' the broken toy in the end (he ties the string into a knot in the book) and SpongeBob and Patrick are happy.
Photo of book: http://ca.pbsstatic.com/m/60/9760/9780439539
Music
CD Album Music
Kaili Aloha

 - SpongeBob starts to exaggerate. {

George de Fretes

}
​APM Music