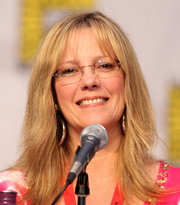 Wendy Schaal (born July 2, 1954) is an American actress and voice actress who is best known as the voice of Francine Smith in the TV seriesAmerican Dad!.
Personal life
Born in Chicago, Illinois, she is the daughter of Lois (née Treacy) and the actor Richard Schaal,[1] and the former stepdaughter of Valerie Harper.
Union activism
On March 30, 2012 the Screen Actors Guild (SAG) and the American Federation of Television and Radio Artists (AFTRA) completed a merger of equals forming a new union SAG-AFTRA and as a result of this merger a group of actors including Schaal, her former stepmother Valerie Harper, fellow voice actor Michael Bell and actors Edward Asner, Martin Sheen and Ed Harris to name a few immediately filed a lawsuit against SAG President Ken Howard and several SAG Vice Presidents to have the merger overturned and the two unions separated because of their claims that the election held by both the SAG and AFTRA memberships was improper.[2]
The plaintiffs filed a settlement agreement to dismiss the case "with prejudice", on May 17, 2012.[3] The lawsuit was officially dismissed five days later.[4]
Filmography