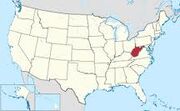 West Virginia
is a state. The capital is Charleston. It is part of the rural South, and is close to the 
Pennsylvania
city of Pittsburgh. It was carved from the western portion of Virginia in 1863 and became the 35th state when it was admitted to the Union in that year. It is the 10th smallest state in total area.
West Virginia was part of Virginia from the mid-17th century up until 1863, when 40 Virginia counties who were pro-slavery, but anti-secession, split from Virginia and made their own state. To please the people of these counties, Abraham Lincoln made West Virginia a state in 1863.
See also
Ohio - northwest
Kentucky - southwest
Virginia - south and southeast
Maryland - east
Pennsylvania - northeast
Community content is available under
CC-BY-SA
unless otherwise noted.